Matt Bens
June 9, 2013
Matt. Short for Matthew, I suppose. No one knew his name until after the incident. No one talked to him. No one was his friend. I wish I could go back in time and fix what happened, but I can't. Matthew was a strange boy. Let me tell you his story.

Matthew Bens was a sandy-haired, frosty-blue-eyed, broad-chested freak. His eyes, though. They were the most entrancing things I had ever seen. His pupils were darker than night itself. It was as if they were swimming in an icy cerulean sea of iris framed with a thick dusting of lashes. On his first day at Ridgemont High School, the popular kids tried to lure him into their entourage with their kind words and empty promises. However, it was clear from the start that Matt would never be one of them. He didn't talk to anyone and hardly raised his hand in class. Matt got average grades and sat alone to eat his average lunch. He lived on my block, but I never said a word to him the first few months he was here.

One of the many weird things about him was that Matt slept on the bus ride to school every morning. He had black bags under his eyes, forming a stark contrast against his chilly blue irises. Each afternoon, Matt would always be anxious to get home. He tapped his feet and bounced his knees as if he were racing across hot coals. I'd always had the inexplicable urge to press my hands to his thighs and cease the incessant racket, but I kept my distance.

As soon as the bus pulled onto our road, Matt would shoot up and out of his seat like a bullet and run home as fast as his legs could carry him. I followed suit, but at a more leisurely pace, constantly attentive to the laughs and jeers coming from the bus behind me and directed towards Matt. Those kids said terrible things about him and started rumors. John Irving was right when he said, "Rumors aren't interested in the un-sensational story; rumors don't care what's true." I'm sure Matt knew about the gossip being spread like wildfire about him, but he paid no mind to it. He was a good kid, the kind that never started fights and was seldom absent from school, which is why I was surprised when he missed a whole week's worth of classes. I looked for Matt in my history class, my English class and my Spanish class, but he didn't show up. Halfway into the week, I overheard the school psychiatrist, Miss Greenburg talking to my history teacher. She said Matt's sister, Emily, had been hospitalized for repeated suicide attempts.

"She and Matt were extremely close," Miss Greenburg said. "His mother told me last month that Matt spends his nights by her bed to make sure she would wake up in the morning, and that he ran home every afternoon to ascertain that Emily was still there. Matt's mother said he told her that he would continue running until there was no one to run for."

I was shell-shocked. A million thoughts began swimming madly through my head.

How could he cope with everything that was going on?

Why did he keep this all to himself?

Why didn't he say something against the rumors?

I waited for Matt at the bus stop every day that week, but he never showed up. Finally, I saw him trudging around the corner on an early Monday morning. Grabbing my bag as I rushed out the door, I ran to catch up with Matt. As usual, he didn't say anything when he saw me.

"Hey," I said, but closed my mouth when I realized he wasn't listening.

I thought of Emily the entire day. What could've caused her to slip into such a state of disrepair?

As if by routine, I got off the bus behind Matt and raised my eyes to watch him sprint home...

But Matthew Bens had stopped running.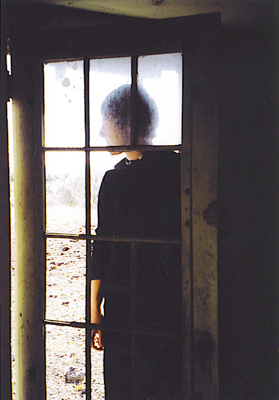 © Lindsay S., Billings, MT