Memories of the Stars
October 1, 2008
To those men who are born for mountains, the struggle can never end, until their lives end. To them it holds the very quintessence of living - the fiery core, after the lesser parts have been burned away. –Elizabeth Knowlton

I watched our car's thermometer drop. 16 degrees, ten, eight, five, then back to ten again. Come on! I said to the thermometer in my head, Drop lower! Lower!

While I was having this silent conversation with the thermometer, we were headed up to Brundage Mountain Ski Resort in our SUV. We wound around one of the many snowy roads in McCall, Idaho. I was so excited. I was going skiing for the first time, with the rest of my stepfather Doug's family, the Normans.

Slowly, the amount of trees started to lessen, until there weren't any left on the right side of the car. A small hill with a chairlift came into view. I started to crack my fingers, trying to contain my excitement. We parked in the snowy white parking lot, and I hopped out of the car to look around. There was a huge building to my left side, which looked like the lodge. Skiers whizzed by, heading to lifts. I could see a group of snowboarders sliding down a half pipe in the distance, gliding up the sides, and then shooting into the air, doing complicated tricks with ease.

This was definitely not what I thought skiing would be like, I thought, getting up from yet another fall. I was at my first ski lesson, just an hour after we arrived. The skis felt heavy and unnatural on my feet, and it took more strength than I thought it ought to to pick my feet up. I was trying to learn how to start, and more importantly, stop. I was clumsy as Pooh Bear with his head in a honey pot, and had been falling down frequently, and my hair was a mess of tangles and snow. I had ice down the back of my coat, and my goggles were filled with melting snow, white as the clouds that floated lazily about above my head. How long will it take me to ski as gracefully as the rest of Doug's family? I wondered. Joseph, another eight year old, the son of one of Doug's brother's, skied by, laughing at my fall. I frowned. I'll never ski again! I thought.

After the ski lesson was over, I headed back to the lodge. Our table was already filled with Doug's family of excellent skiers. Joseph was there too, with his younger sister Hannah. He must've gotten in another run down Swinger, his favorite black diamond, before he got back to the lodge. I trudged over to the table, sat down, and then got up again. I walked out the door to the lodge's deck, and once again looked around. The steeper slopes of the mountain descended with a dangerous beauty. The sun, sparkling atop the soft white powder, held a magical essence. The exquisite beauty of the mountain hadn't changed, and neither, I decided, had my desire to learn to ski. I would just keep trying.

The next day I had another ski lesson. That day we would take the ski lift that the more experienced folks used, the Bluebird. I grimaced for what seemed like the hundredth time since we arrived. The Bluebird was a four person lift, and much faster than the little bunny hill lift, which I was used to. I would have to move faster to get in front of the chair and into position, or I might get hit by a chair. When it was for us to get on, my ski instructor glided on ahead, and I quickly shuffled behind him. I turned my head to look at the chair. It was coming quickly, gaining speed. I shuffled faster, gritting my freezing teeth, but because of my careless shuffling, I started to lose my balance. The chair behind us was still gaining speed, coming at me like a bull at a matador's cape. Unlike the matador, I did not swiftly avoid the bull with a flourish. Instead I yelped, slowly falling sideways. I closed my eyes, prepared to feel the icy cold snow hitting my cheek and then the chair slamming into my back, propelling me into the air, only to drop me into the bank of snow in front of us. A firm hand grabbed my arm, lifting me into the air and then plopping me on a hard seat. I opened my eyes slowly. I was on the cold seat of the chairlift, safe. I smiled at my instructor in silent thanks.

"You're welcome." He laughed.

That afternoon when I trudged into the lodge for lunch, I had a smile on my face. I had skied the longest run on the mountain, Temptation, a run which was more than two miles long, and had only fallen once. That afternoon I didn't have any lessons, so I planned to go back to Temptation and ski it with my mom, Beth.

After lunch, our plans for the afternoon had reached the ears of every Norman. They had all been skiing black diamonds that morning, and wanted to go skiing with us on Temptation, as a sort of break.
Now I had something bigger to worry about: making a fool of myself in front of Doug's whole family.

Now, about to head out with Doug's family, I would need to use my brain very carefully. We headed out to Bluebird again, and this time, to my relief, I had no trouble getting on the lift. This time I rode with Joseph, Hannah, and their dad, John. We neared the huge mound of snow that was the ramp down from the lift. I wondered, what will happen if I stick the top of my ski in to the top of that mound? At the moment I was supposed to get off the chair, I stuck my ski right into the snow. Time seemed to slow down. My ski stuck firmly into the snow, pulling my leg back, but the chair kept going, pulling the rest of my body forward. Joseph, Hannah, and John were already off the lift and were skiing down the ramp. Meanwhile, I continued to stretch. My ski wouldn't budge. I decided to try to pull my ski out of the snow. Suddenly I was falling forward. I snuck one last glance upward at the others before I hit the ground. They were all watching, amused. Then my goggles hit the hard packed snow, pressing into my forehead. Owww! I thought, Stupid. Why did I do that? I looked up. They were all laughing. Hannah was holding her stomach, giggling. John had leaned his head back over his shoulders, guffawing. Joseph was the only one who tried to restrain his laughter, but when I tried to pull my ski out of the snow without success, he started to chortle louder than any of them. Everyone laughing made me smile, and before I knew it, I broke out into laughter. That was the beginning of my friendship with Joseph and Hannah, and the end of my worry of making a fool of myself in front of them.

For the rest of the week I had ski lessons in the morning, and skied with Joseph and Hannah in the afternoon. Of course, they were a lot faster than me, but they skied slower at times so I could catch up. In time, I learned to take more risks and ski faster. On the chairlift we would take our gloves off and share the cold Starbursts or Rolos leftover from lunch that we had kept in our pockets. At the end of the day, we would always have dinner together with the other Normans at the condominiums we rented. After dinner we went swimming in the warm pool. One day we went to town to look at the snow sculptures from the snow sculpture contest and ice skate, and one afternoon we went snow tubing together, followed by a nice warm cup of hot chocolate.

Happily, this has become a special tradition that I've been part of for the past four years. It's a great opportunity for our family to get together and have fun. Unfortunately, our family has recently received some sad news. Joseph and Hannah's parents are going to get divorced. Joseph and Hannah are moving from Seattle to Texas with their mother. Now, when I have finally accepted them wholly as a part of my family, I am saddened by the thought that I may never be able to see them again. Now, as I look up at the stars, it's so hard to imagine that once upon a time I didn't have to worry about losing the wonderful experience of skiing with them again. But, no matter what happens, I will always savor the time that I had the blessing of sharing with them. Every time I look at the stars, I will remember the stars as if in the cold night sky over McCall, a small town in Idaho, where one day, a little girl made two wonderful friends, and the magic of the snowy mountain took place.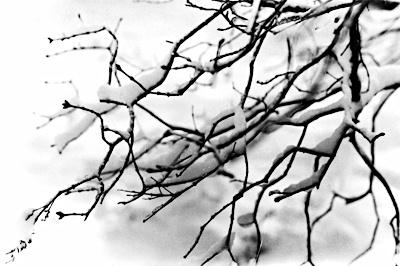 © Lindsey D., Marblehead, MA