The Day in a Life of a Pencil
October 2, 2014
I am not ready for another day being held by this snot nosed kid. I can already tell that today is going to be awful considering the fact that I just got pulled out of his slobbery mouth. Now I have bite marks up and down my wooden frame. I look so disfigured. All the other pencils in the pencil box laugh at me, but what I can I do? I don't have hands to push him away from me for defense!
I guess the human is taking a test, I mean, he keeps tapping my head against the desk and pressing so hard against my lead that I feel like I'm going to break. Oh, there I go. The kid takes me to the sharpener, which is more like a torture device. The pain is excruciating! Oww! Relief comes when he pulls me out and walks back to the desk.
Can this kid be any more indecisive! He has worn my eraser down to a little, shabby, pink stub. I feel like an amputee who just lost a leg. Here comes the prosthetic limb, the cap eraser. The darn thing is so uncomfortable because it hardly fits, but I can deal with it. 
I hardly feel like a pencil anymore. The others continue to cackle at my damaged body, yet in a way I feel like a war veteran…with PTSD. Dealing with this child is a battle. He puts me back in the pencil case next to all the other writing utensils. Their giggling in my ear continues until another fresh pencil is taken out screaming. I guess I'm no longer useful, but thank God for that. Now these giggling idiots can have a turn at my pain.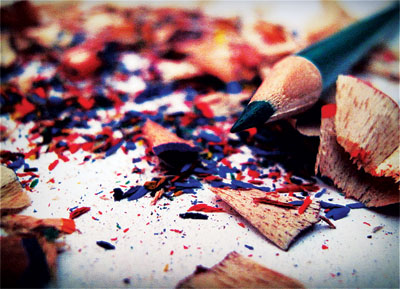 © Rosalee M., Lowell, MA