Xana is Back
May 27, 2010
Two years had passed since Jeremie, Aelita, Yumi, and Ulrich shut down the super computer for good, and life had been very normal at Kadic Academy. Aelita and Jeremie had spent a quiet evening together on the bridge by the factory. The two of them lay spread out, looking up at the stars.

"I have this weird feeling," said Jeremie, "That we haven't seen the last of XANA."

"Oh, Jeremie! You're just being paranoid. Those days are behind us!" she smiled sweetly, and took his hand.

Laughing good naturedly, she led him into the abandoned factory. Her short pink hair was flying as she ran with him, pressing the button for the old elevator.

"Here, if it makes you feel any better, I'll prove to you that we have nothing to worry about!" she told him, as the elevator opened, and they walked into the room where the computer screen still lay.

They opened the other door, and got into the control room.

"See?" Aelita said, "The lever is still- oh my goodness!" her eyes widened, and she and Jeremie shared a look of sheer terror.

"I knew it." He replied, quickly regaining his composure, "XANA is undefeatable."

"It's just not possible!" wailed Aelita, "My father, Franz Hopper made sure XANA was destroyed."

"We have to tell the others- immediately." Jeremie replied determinedly, a distracted look in his eye.

"I'll do it." Aelita offered, running out of the factory, keeping her pace even, panting. Heel, toe, heel toe. She thought.

She arrived at the dorm rooms in record time- she started by bursting into Odd and Ulrich's shared room.

"Wake up!" she ordered tersely, "We have a huge problem."

"Five more minutes." Odd muttered, rolling over in his sleep.

"No waffles for you!" Aelita commented slyly. Odd sat up as straight as a whip.

"Waffles? Where! Hey… It's midnight! What gives Aelita?" He blinked.

"XANA is back- we need to get back to the factory- right now!" Aelita commanded quietly, reverting to her soft spoken nature.

Suddenly, she noticed something amiss. Both Odd and Ulrich appeared to be statically fizzling out. It had been a long time, and she was a bit out of practice, but she still easily recognized the tell tale signs, "Polymorphic specters." She muttered under her breath.

She tried to call Yumi on her cell phone, a mechanical voice answered, "Hello?"

Aelita quickly hung up, and clicked her phone shut.

Running now, she headed back to the factory, where Jeremie waited. Panting, she leaned against the wall, wearily, placing her hands on her knees. Jeremie looked at her, probably wondering where the others were.

She uttered only one word before continuing to catch her breath, "Specter."

"All of them?" he asked morosely.

She nodded. Catching her breath, she elaborated.

"Jeremie. I have to go in and fix this! Who knows where the real Ulrich, Odd, and Yumi are?"

"But you can't go in alone!" he objected.

"I know. That's why you're going to have to go with me." There was a disagreeable silence between them. Of the five of them, Jeremie was the only one who refused to go to Lyoko- the virtual world they would need to visit through the scanners.

"Aelita- who would man the controls?" he dodged.

"No one has to. We'll just have to fly solo." She formed her rebuttal quickly.

"Aelita!" he groaned.

"Jeremie!" she seethed.

"Aelita, it's just not safe for you to be without someone at the controls, you don't know what to expect- what if things have changed?" he growled.

"I won't go in unless you do, too."

"Fine." He agreed reluctantly.

Jeremie walked quickly to the computer, while Aelita waited in the scanners. Jeremie started up a delayed virtualization.

"It's good to be back!" Aelita whispered, as the scanner whirled around her, to take her to the surreal world of another dimension. A world known as Lyoko. The companions landed directly in the forest sector. Nothing had changed since they left it. The trees still stretched endlessly up, on the various platforms floating in midair. Jeremie stared in wonder.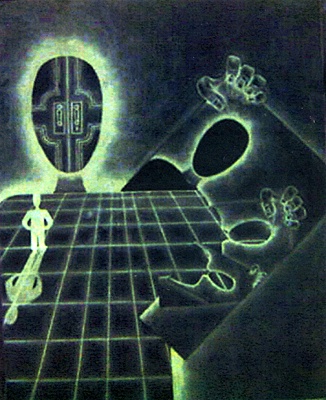 © Andrew P., Muleshoe , TX