Met on Twitter [edited]
December 6, 2013
Hi. My name is not that important. All I have to say is that I met the love of my life on Twitter. Yeah, I know. It's ridiculous. But it can happen.
One day, I posted a picture of me and my friend, Kristyn, making silly faces. We were at her house and watching One Direction: This is us. It was our favorite movie and I BEGGED her to watch it again. After I took the picture, I tweeted it, saying, "#havingthebesttimewithmybff #1Dmovie". I pressed "post" and then waited to see what kind of jealousy would follow. Kristyn asked, "T, did you post it yet?" I nodded and then I felt myself get giddy with excitement as I received 2 notifications. But out of the two, one surprising person retweeted it.
@louis_tomlinson retweeted your photo with this comment: Hey, I'm jealous, lovely. Want to chat up sometime?
Oh my gosh. Louis Tomlinson retweeted my photo AND asked to chat!!! Oops. Sorry, Slight internal fan girl moment. Kristyn looked at me and asked, "What?" I showed her the tweet and she got the same look I did. "Did Louis freaking Tomlinson just ask you to chat?!" I nodded frantically and then turned back to my Twitter. I replied to Louis' tweet:
@louis_tomlinson, sure my number is xxx-xxx-xxxx
I waited as the credits of the movie began to roll. "Ah! I missed my favorite part!!" I didn't realize that I had accidentally pressed "accept" when my phone started ringing. "Hello?" a familiar British accent said through my phone speakers. Kristyn questioned, "What was that?" "Hello!!!" I looked down at my phone and blushed a cherry red. "Oops! Sorry! Hi! Is this Louis?" Even though I couldn't see him, I could tell he was smiling. "Yes, the one and only Louis Tomlinson," he laughed. I smiled brightly and put him on speaker. Kristyn said, "Hi, Louis!" "Hello!" Louis replied. I explained, "You're on speaker and that's my best friend, Kristyn!" Louis gasped, "I thought I was your best friend! Gasp!" Kristyn and I burst out laughing. "Well, yes, you too. Oh my god…." I did not know how to handle this kind of situation. "By the way," Louis said, "What's your name?" "Thalia." "Pretty name." I blushed softly. "Thanks."
Louis and I talked while I walked home and he asked, "Hey, Thalia, can I call you after the concert? Or maybe FaceTime?" I smiled. "Sure. Talk to you later, Louis." I walked into my apartment that I moved into recently. After about an hour, my phone rang. I answered it and Louis' face popped onto my tiny screen. "Hi!" I said, smiling. "Wow…" Louis said. "Wow, what?" He blushed softly and then smiled. "So what cha doing?" I shrugged and sat on my couch. "Nothing much. Just sitting around," I replied. He made a pouting face. "You should be out and about," he said. I laughed, "And why is that?" "You should have fun, be young. Cause you're only young for a certain amount of time." "You're saying that like we're fruit flies or something." Louis laughed, "I'm being serious, though. You should go find a party or something." "Why? Are you at one?" He replied, "Maybe. I'm bored though. I need a pretty girl who I find very fun to be around to be here with me." It seemed like he was dropping hints about someone. "Who?" He rolled his eyes and said, "You, you silly goose." Louis thought I was pretty??? Really? "Come on. I'll give you the address."
After 10 minutes, I eventually made it to the party. Louis was waiting for me by the door. "About time," he said in exasperation. "Oh shush, you." He grabbed my hand and led me inside. "Come on, the boys want to meet you!" he yelled over the loud music. Soon, we were standing the eyes of Harry Styles, Liam Payne, Niall Horan, and Zayn Malik. I blushed nervously and mumbled, "Hi..." I shook hands with them until Louis took me away and said, "So I want to get to know you more. 20 questions?" So I wasn't the only one who played that game. "Sure! You first!" I said. "Favorite food?" "Chocolate. You?" Louis smiled and said, "Cookie dough. Favorite Color?" I replied quickly, "Red." His blue eyes lit up as he said, "Me too!"
Louis and I continued to play 20 questions [which turned into 50 questions]. After the party died down, Louis said, "I have to go." My heart dropped. Just when I was getting to know him, he had to leave? "I have a concert in Denver and I don't know when I'll be back." I sighed sadly. He lifted my chin and smiled at me softly. "But," he added, "We have each other's numbers so now I can call you whenever I want to." I managed a smile and Louis grabbed my hand and led me to the door. When it opened, I saw Kristyn standing on the doorstep. "Your mom told me to find you… It's Matthew… He got hurt…" she managed through huffs of breath. I looked at Louis and he only nodded sadly. I let go of his hand and followed Kristyn to the hospital.
Matthew's nurse led me to his room after telling Kristyn to stay in the waiting room. Inside his room, stood my parents. My mom was crying and my dad had his hand on her shoulder. Matthew lay in the hospital bed, his eyes closed. I choked out, "W-what happened?" My mom looked at me and I hugged her as she replied, "He was walking home from the library and he had his headphones in…. he didn't hear the van honk at him and he….got ran over…" I imagined the whole scene in my head. Matthew blasting his metal music so loud that it drowned out other sounds. I felt tears fall down my cheeks and I looked up when there was a knock on the door. When I opened it, the nurse explained, "I told him to stay in the waiting room, but he insisted that he was a friend of Matthew's." I looked to see Louis' startling blue eyes. "L-Louis?" He gave me a hug and whispered, "I had to see you again. I couldn't help it…. There's something about you…. I think I like you, Thalia…" I smiled and closed my eyes, enjoying this moment.
After a few months, I agreed to being Louis' girlfriend. Even though he was gone most of the time, I Skyped with him almost every day just to see how he was doing. One day he told me that he was taking me on tour with him. He got me backstage passes and front row seats. After they performed "Best Song Ever", Louis said into his microphone, "A few months ago, I met this wonderful girl who I now call mine. She's the most beautiful girl I've ever seen. I dedicate 'You & I' to her to show her how much I love her." The girl next to me huffed, "He could do way better." I looked at her. "Oh you think he could do better with a b**** like you?!" I snapped, getting angry. "Yeah, unlike a loser like you." Those words pricked at my heart and I desperately wanted to slap her. But instead I ran backstage and waited for Louis. I ended up hiding in his dressing room, behind the clothes rack.
Louis eventually found me and said, "Thalia, I know you're in here." I shuffled out from behind the clothes and sighed. I wiped away my tears, causing my face to get red. "Babe, why are you crying??" he asked, coming over to hug me. I felt safe in his arms and I managed, "This girl told me that you could do better…. And then I got mad when she said that you do better than a loser like me…" Louis' hand rubbed circular motions on my back, his way of comforting me. "Baby, don't listen to what the haters say," he said, "Just know that I love you and only you." I smiled up at him and he gave me a slow, passionate kiss, our first true kiss.
After a year of dating, Louis took me to Rome, Italy. It was one of the many places I wanted to see when I was young. We went to the Coliseum and walked along the River Tiber. I told Louis all the things I knew about Italy and my lineage, since I'm 25% Italian. Around 5:30 p.m. Louis says, "Thalia… There's something I need to ask you…" I looked at him and asked, "What is it, boo?" He stopped and held my hands in his.
"Thalia, we've known each other for a little over a year now and I'm glad to have gotten to know the girl that I love so desperately. I hope that someday we'll be married and have a family… God… What I'm trying to say is, Thalia… will you marry me?" I grinned from ear to ear. "Yes yes a million times yes!" I squealed with excitement. He picked me up in his arms and kissed me passionately. "I love you, forever and always," he muttered. "I love you forever and always, too," I replied.
Now ever since that day, Louis and I have been by each other's side, no matter what happened. We have a son named Tanner and a daughter named Bay. They're both 3 years old, twins.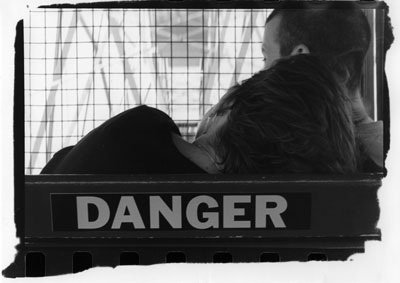 © Katie P., Bethesda, MD