Are You Afraid? (Jonas Brother Story)
April 25, 2014
Chapter One:

I never thought that my life would end like this. Their eyes meet mine
as I feared for my life, as I look around my house for the last time.
My brother, the oldest walked towards me like I was his dinner while
the middle and the youngest looked on. His smile was evil, no longer
warm and happy. His eyes were hazel and gray,now bloody red so as my
brothers.The fangs in their mouths where yearning for blood, my blood.
I wanted to cry for help, but no one was around. I was all alone. He
pulled me in and looked deeply in my eyes. "Kevin, don't do this
please!" I screamed, he laughed and leaned close to my ear " Sorry
Kelia. I love you so much, but I'm so hungry" I looked to my other
brothers, " Nick! Joe! Help me, tell him to stop!" Nick walked over and
creased my cheek, today was his 21st birthday. I was going to die on
his birthday, and he wasn't going to care. "So" Kevin started to say,"
We killed my wife, our parents, Frankie
Danielle's family and now we kill her" he giggled evily. "Am I going to
get the first taste?" asked Nick still rubbing my cheek, I started to
cry. Joe came over and kissed me on my neck, "I can't wait to drink
you." he said. He pushed me and I flew aganist the wall. As I fell,
Joe Nick and Kevin speeded over and looked down at me. Blood was
soaking up my dress, which was white. Kevin leaned over to my neck and
put his fangs in, I screamed. I shot up from my pillow and gasped. It
was just a dream, or was it?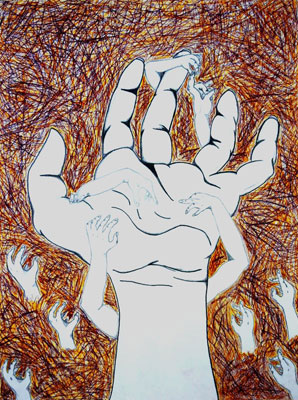 © Ariana R., New Orleans, LA