The Musical Gift of Venice
October 22, 2009
In a small Italian villa, a stream of music flowed in the eddies the wind. The notes rose and fell, like ripples across the glossy face of a hidden lake before the rise of dawn. It was the voice of a sad ballet, its music preserving a place in the human mind where all emotions froze into bubbles. Their silent complexity hovered over this hidden lake, flickering with some sort of candlelight. Not a single heartbeat was drained of the music as it continued onward like a leaf unfurling its worn limbs one final time before the frost of winter took its life.
Yet, even in the complexity of the notes and underlying words, the bubbles of emotion remained unscathed. They bobbed resolutely on the wave of music, without blemish or strife as they flickered their light on the water of the mind. A forest appeared from the darkness enshrouding the lake's edges as the piece became more of literature, taking on more than just a mood: it was taking on a personality, shifting and manipulating the music to its perfection. Within moments, the whole forest of music was humming in tune, a song that would put the baying wolf to shame...

However, the forest of music slowly started to fade. The humming was becoming hazy and pale in contrast to what it once was. Its last notes were filled with sorrow, as if holding on to its last strands for another lifetime. Yet, even in their desperation, the notes disappeared, nothing more than a faint memory.
A new perspective came into view, one involving the tarnished hide of a piano and a small boy, sitting acutely hunched to its keys. The music's beholder had fingers curved like claws. Yet the way he brushed his fingers across the keys was almost gentle, in the fashion that caring parents would caress their newborn children.

However, with each passing moment, the pianist's fingers were slowing as the lingering traces of the music became a mere breath. Then, with the final note, the musical vision faded altogether, leaving the boy with the sight of his family crowding around him.
Mama's eyes were glassy. "That was beautiful, Marcello!"
Marcello felt his cheeks grow red with embarrassment. "It was one of the more complex songs Mr. Durante taught me. It's called 'The Voice of Italy'."
Looking around, he gazed at his family, curiosity shimmering in his eyes. It seemed like Mama was the only one with a reaction. All others had blank looks, as though numb to the piano altogether. However, as Marcello looked straight into his brother Paolo's eyes, he could see jealousy swimming like a ravage beast, threatening to boil over. Blinking, Marcello found his brother's posture otherwise indifferent.
"I think that I should go out and work in the fields," Paolo muttered, immediately turning towards the door.
The breathless spell in the room was all but shattered. Mama's tears immediately started to drench her somber yet defiant face, while Papa reached out a hand to intercept Marcello's fleeing brother.
"No Paolo. Wait here; I have something for you."
Marcello sat in silence, his posture slumped with disappointment. His performance ended in a dull pang. No comforting words were uttered besides Mama's; just the sense of a musical life cut short, lying limp in the back corner where it would be neglected.
Papa suddenly appeared from the hallway, a sack of bronze coins bulging to capacity gripped proudly in his farm-worn hand.
"I know how wonderful you are at drawing," he said, motioning to a piece of decently drawn artwork framed above the piano. "So your mama and I have decided to send you off to drawing school."
Marcello's jaw dropped open in horror. His family had been saving that money for years! How could they have done this to me? After all that I have done to work on my gift!
"Am I really that horrible?" his mind wailed, bitterness welling up in his throat. Oh, it was just too much to handle…


He was in the living room, sitting with his much younger parents. The outskirts of his vision glowed old fashioned fuchsia, like that of a faded family portrait.
"Marcello, are you sure that you want to take piano lessons?"
He head nodded vigorously, never feeling such a sense of surety in his heart ever in his entire life...

The memory faded. Marcello tried to bite back his sorrow-ridden words. After all of those years of anticipation and hope…only to be shattered with a few words. "Paolo has always been the favorite," Marcello thought.
Paolo disappeared down the corridor. More than anything, Marcello wanted to yell at the top of his lungs in agony, or to break down in tears. He furiously pushed his emotions down his throat, unwilling to lessen his chances.
Taking a deep breath, he asked, "What about me? When will we be able to get enough money for piano lessons?"
Mama and Papa turned in surprise.
"You don't already know?" Papa asked incredulously.
Marcello narrowed his eyes in confusion. "What are you talking about?"
Mama and Papa exchanged glances. Mama cleared her throat. "You...you don't know...who Mr. Durante is, then?"
"Of course I know who he is! He was my piano teacher!"
"You don't understand!" Mama exclaimed, her eyes glowing with excitement.
Papa smiled. "This 'Mr. Durante' person seems to have taught you well. However, he can't teach you a single thing more..."
"All those years ago, you asked us to take piano lessons. We hired the best teacher we knew: the Bard of Venice."
"The...the...Bard of Venice? THE Bard of Venice?" Marcello spluttered, his words melding together. "Mr. Durante, the Bard of Venice?"
Both parents nodded, their faces ignited with pride. "Yes. Yet...you seemed to have passed him in your musical ability. You have a gift, Marcello. We feel it's time that you go out into the world and use it."
Marcello let out a gasp. Was he truly ready for this? "I...I feel that I am not ready yet. I need to learn more and learn patience and mature."
Mama and Papa grinned. "You are wise, our son. We shall wait for you. Whenever you're ready, go out into the world to make a name for yourself."
Breathing in the warm summer air, Marcello let his eyes gaze upon the worn out piano keys as he began the next song with happiness creating tendrils of love and light in his newly refreshed heart.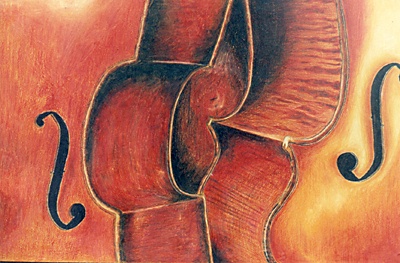 © George N., Houston, TX