William's Dream Part 3
May 17, 2010
William could not believe what he had just heard. Not only did his real father not bother to contact his family for eighteen years but he was also BRITISH? He was so lost in thought, that he did not hear the screams of the men around him. When he heard them yelling, he immediately snapped out of his trance and turned to see what had happened. That is when he saw it. A large black cannonball was zipping through the air at incredible speed and was about to land by the side of the dock. William tried to run, but his legs were frozen in terror. He finally found the use of his legs, but it was too late; the ball had already hit the ship. Within a blink, enormous splinters of wood flew through the air. Suddenly, William felt a sharp pain by his knee, forearm, and his head. He felt his legs giving away and within a second, he was on the ground. William lay on the deck, helplessly watching his own blood stain the ship. He heard men calling his name, but vaguely-as if they were very far away. Their voices quickly faded. He could no longer find the strength to keep his eyes open, so he let them close.
William died that day. The crew tried relentlessly to save him but it was all in vain. The wooden splinters had damaged his brain severely. The militia sent a notice to the Acre household to inform them that William had served his country to the end. Marilyn picked it up one beautiful autumn day. She was having a great day and did not think that anything could ruin it. That was until she read the notice. After reading the letter, she wept into her pillow for days. She had known that William should not have joined the militia! She had sent him thousands of letters telling him that it was a bad idea! What would she do without her baby brother? How could she live alone with her father? William was her source of comfort. He was her lifeline, her source of happiness. How would she continue living without happiness in her life? He only lived to be 18!
John Acre groggily walked into his kitchen to find some breakfast but instead he found a short letter on the wooden table. It must be for him, who else would it be for? John read quickly through the notice and dropped it before reading who it was from. William had been killed in battle. He was just a boy! John felt unsteady; he had to hold the table to keep his balance. If only he had been kinder to William, then he would not have felt the need to join the militia and he would still be alive. It was tragic that he had just now understood that he had loved William like his son. What about his father? John resolved that William's father should know that he had a son and that he had died in combat. He would send out the letter after breakfast.
William Shackleton limped to get his mail. He had only received one letter, from a man named John Acre. That could not be Phoebe Acre's husband, could it? An image of a young boy with his eyes and Phoebe's face flashed through William's memory. Could that have been his son? Did he survive after he sunk the Americans' ship? William ripped open the envelope and began to read the letter. He was right. That was his son. He did not survive. Phoebe had named his son after him. Phoebe was dead. A feeling of guilt churned within William's stomach. He should not have left Phoebe like he did. He should have known that there was a chance that she would have a baby. He should have been with her. He should have raised that boy, not killed him. He continued to read the letter and learned that he was invited to attend the funeral of the boy he had brought into and later taken out of this world.
When John Acre organized the funeral, he had not even dreamed that it would be so heavily attended. He did not even recognize half of the faces in the sea of people who had come to pay their respects. A large majority of these people wore uniforms with the insignia of the militia. Leading these men was a very badly injured Oliver Hazard Perry. These unexpected guests lit a spark of surprise in the eyes of the sober townsfolk. But John did not focus on any of this. His eyes were glued to the British man who had impregnated his wife, and was now mirroring his look of curiosity. John approached the casket in which William was about to be buried to get one last look at the boy he had loved as his own. The face that he had watched mature was now mauled with several wounds, which seemed to give it a look beyond its years. After the burial, Marilyn, John and William stepped up to make the announcement that they had been planning since they had received that dreadful notice in the mail.
"Hello everyone, and thank you for coming," Marilyn began, choking back tears, "Now, if you don't mind, we would each like to say a few words. I will begin. My brother was always brave. He had a dream of bringing freedom, and he died trying to fulfill this dream. I have decided that I will help him with this dream by coming with you Commodore, if you consent it, as a nurse for injured soldiers."
"I will come to help her," John added, "I would not be a strong soldier but I wish to help somehow."
"As do I," William continued, "I have decided to take up the reins of my determined son, and take his place on your ship, again, at your consent Commodore."
And from the heavens, William smiled down at the three brave souls, for although he had not lived to see it, he had won over the affection of not one, but two fathers.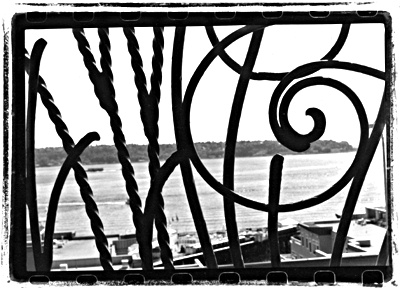 © Mary A., Fullerton, CA