Neighborhood Warfare
May 29, 2011
It was late summer; we were growing up good, growing up slow. The tanks were coughing up black smoke and the people kept disappearing.
All those old, bombed out houses we used to hide in; we knew everybody that had lived there, then that had fled. Everyone was gone, even the old man with the red wagon that we had teased since we were kids. He wasn't anywhere to be found, carting that Radio flyer around.
Your old mustang had been stolen. Nobody sold bikes anymore; we walked under the intense, huge Texas sun, the wide- open blue sky suffocating in smoke. Every day was hot and the dirt was browner than usual. As brown as the trees or grass because there was a drought that year and things were dying as we only just started to understand life.
So when we used to stand and stare at the helicopters and the people, it was only just beginning. Even when they put up the barbed wire, to separate us, I crawled through the gap in the fence so I could talk to you. You smacked me in the head when you saw the blood on my back, from where I had failed.
You told me not to come see you again. I asked if we were still friends, because this wasn't a war, not really, and we weren't enemies. It would all be over soon. But you weren't so sure, and neither was I.
It was late July then, and my little sister vanished. You see, she had long, yellow hair and eyes as big and bright as stars. After days, I showed up outside the stupid sandwich shop you worked, calling your name and screaming and crying out and the people stared and yelled at me because I was not one of them.
"Get back over the fence," They sneered.
But when I finally saw your face appear in the window, I ran over, smashed my fist on the glass, and asked where she was. But you didn't know. Or maybe you did.
I don't know.
And that next month was so long. And my Mother was so sad. We haven't seen my sister, with her long golden hair. We see men in camouflaged uniforms shooting and stealing people into their clothed vans.
I saw that place we used to sit, string our guitars. Laugh together. I saw that street corner where you had your first kiss with Saskia. I don't see her anymore. I don't see anyone anymore.
Yesterday, summer ended. They put the barbed wire up for miles. The planes keep coming, dropping their bombs on us. The city is burning, a bright flame in the night as the people fight. I don't play my music anymore, even though you encouraged me to. But hey, I don't have a drummer. You were my drummer.
The old houses are started to crumble now, places we hung out. Under the highway overpass, our graffiti has been added to. Mostly by me. I don't even know what I write, I just spray. I feel the tanks roll above me, grinding the ground, shaking my teeth.
I paint a picture of the war that separated us, me and you. I miss you, I guess. I hate that you're one of them. But then again we're just kids. We drank out of the same Gatorade bottles, studied the same subjects, we both broke our legs when we were eight, liked the same girls, miss the same things.
Maybe next summer I'll see that fence come down.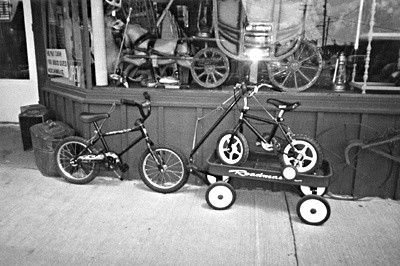 © Eva A., Eagle River, WI