Goodnight
April 27, 2014
I have been through two hard, long wars and have lost. I have killed and murdered the lives of many men and women, so what difference will one more measly man dying make? Who will even notice? That is stupid of me, so very stupid. As I stare intently at myself in my mirror, I realize that my whole life has been so very stupid.

At first, throughout my time in primary school, I was ordinary and had the same ambitions as any other boy. In fact, I was the most clever and consequently most popular boy in the whole school. Everybody adored me. Well. Almost everybody. There was this one boy, though. I didn't notice him much in primary school; he kept to the shadows and never really talked to anybody. But if I think really hard, I can remember him glaring at me. I can remember him staring at me enviously. He was quite clever, but a bit second best to me really.

Then, I entered secondary school. Everything changed. Everybody was so – well – intelligent. That boy was tons more clever than he had been. I struggled to keep up with all of them at first – and then I just gave up. I was weak and unfortunately for me, that boy could sniff out weakness from a mile away. He came up to me at break and lunch and started taunting me, saying things like, "Ooh, has pretty little clever boy started having twouble? Oh deary, deary me!" Everybody always fell about laughing. They started teasing me too, even the ones that had loved me before.

I hated it and I hated him. I started lurking about in corners of the playground every lunch, until one day – "Hello. Are you upset?" It was a little girl, come to visit the school. I shrugged at her sullenly. She shrugged back and giggled. She looked me up and down for a moment, "You look strong. Want to play battles?" I'd heard about the Boer War and it had looked quite fun, so I nodded. She was so cute and fun and it felt good to have a proper friend. We re-enacted scenes from the Boer War until her Mum came to pick her up. She waved cheerily goodbye to me and I waved back.

Ever since then, I started re-enacting scenes from the Boer War with little children. It was great and I felt so happy and free. It was good to forget and play and I started to not just love playing – I got a love for war too. It was brilliant and explosive and you never knew what was going to happen…

But it couldn't last; my happiness never lasted and never will. When I was 15 years old, I failed all my exams. I was told I had to repeat a year and my world started crumbling beneath me. That horrible boy teased me more than ever. He passed every single exam. "I'm going to go off to Art college and where will you be? In some sewer somewhere, won't you? Have fun being a failure, being no good for anything. Have fun, little boy." He kept on saying those two hateful words: 'Have fun'. I ignored him, even when he followed me around for the whole of break. But then he said something that really stung: "You'll never be good at anything, you pathetic, little moron." I turned around and punched him. I was good at one thing. WAR.

I dropped out of school after that. I couldn't bare the sight of his stupid face. He didn't tell on me, probably for fear of being called a tell tale. I still wanted to show him I could beat him at anything I wanted though. He'd said he was going to go to Art college and I wasn't bad at Art, so I used my father's money to go to Vienna and apply to two Art colleges. Neither of them accepted me, but I wouldn't be defeated. If I couldn't beat him at his own game, I would just become superior to him in another art: war and leadership. I started to learn about politics and I also got interested in a Christian society that hated Jews. I recognized some of the things Jews did to that of what the boy did. I so wanted to be part of that society.

Despite the fact I was now absorbed in politics, I longed for a proper career, something to show the boy up for bullying me. And I soon gained one: I volunteered for the German Army and became the corporal; soon gaining many medals and awards. That's when it all started. My first war: the Great World War One.

I went on to bigger and better things. I never saw that boy again – but I knew, somewhere, that he saw me and would burn with jealousy. I continued to grow stronger, greater and more powerful. I had an army of millions of Nazi's behind me and for a long time, nobody could stop me. I commandeered the entire Second World War and almost won – but alas, I have lost…

It doesn't seem worth it, any of it anymore. I have failed and therefore the battle between the boy and I is over and he has triumphed. That boy, tomorrow, or the next day, or maybe the day after that, will read in some paper somewhere: 'Adolf Hitler found dead,' and will know, once and for all, that he has won.

I sigh. That one measly man's death will be mine - and I will be the cause of my own death. I will commit suicide by choice. I have always been strong, fearless; or sometimes fast and enraged. People know me for my quick temper, but now that I am to die, I am a shaking wreck. At the same time, I long to die and stop seeing that boy taunting me over and over again in my head, to stop seeing my fat English opponent chanting, "You've lost the war and now you'll lose your life." Adolf Hitler, shaking. How pathetic.

I sigh again. In a minute, I will walk into that chamber and say goodbye to the world, filled with regrets, for this is all in vain. I have tried too hard and have come crashing down. In a minute, I will be shot. I will no longer feel, taste, touch, hear or smell. The man that has killed nations will commit suicide and be dead – I will be dead. Adolf Hitler will be no more. I suppose it will be like falling asleep after one long, horrible day. I won't say goodbye. I'll just say… Goodnight.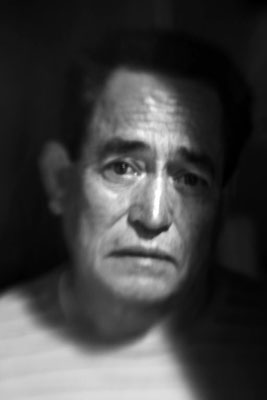 © Adam P., Goleta, CA