The Story of James Armistead Lafayette
January 29, 2009
I am an American. I am a spy. Not many people know my name. I am James Armistead Lafayette.
I was born a slave in New Kent County, Virginia, on a small plantation run by a white man. I was named James Armistead.
While growing up, I worked on the plantation. When the war started in 1775, I did not know what it was about or why it was happening. In the following years, I learned too much about it'I saw families riding past the plantation to escape the battles; I saw American soldiers go into battle with little equipment and even less training, but facing death with courage nonetheless. Slowly, I started to realize that this war not about money or land; it was being fought to defend the ideal of liberty.
No wonder people were willing to risk their lives'even I could win my freedom if I fought for the Patriots.

As I continued my daily life on the plantation, I kept hearing about the failures of the American army. I kept wondering if there was any way I could help. I knew General Washington needed information to run his campaigns . . . I could give him that information. After I decided my course of action, I finally gathered up my courage to ask my master if I could join the war. My master was a very patriotic man and a strong believer in the ideal of freedom. However, I did not think he would be willing to lose a good worker for an ideal. Therefore, I was surprised when he did not get angry with me; I was almost speechless when he smiled and told me to make haste.
General Marquis de Lafayette's camp was the closest'it was a day's ride north. I decided to join the general and fight for liberty.

General Lafayette was a courageous French man. Despite his youth, he had seen many battles before'I could tell just from his demeanor. He asked me many questions regarding my decision. I could see he was surprised to see a black slave willing to fight for the Revolution. Finally, he asked me what was on his mind: 'Why? Why do you fight for the people who treat you like dogs?' 'Because' I said, 'I want to have a chance to help everybody get a better life, and...' I paused, and then continued hesitantly, 'I want the same liberty and freedom the white men are fighting for.' Lafayette considered this. 'Well said,' he finally answered thoughtfully.

I told General Lafayette about my plan, and he agreed enthusiastically. Almost immediately, I set out for the camp of the notorious traitor of the colonists, Benedict Arnold. I told him I was an escaped slave and had run away from my master to work for the British and earn my freedom. He believed me, and I went to work as a forager. The British never suspected I was a spy.
I gained Arnold's trust and was allowed to accompany him to Lord Cornwallis's tent; thus, I got to hear their battle plans. Cornwallis believed I was a tacit man who could keep a secret, and soon, I gained his trust as well. Because of my services to the British cause, he asked me to spy on the Americans for him! Now even my one obstacle'communicating with General Lafayette, was gone; I could move from the American camp to the British camp with ease. I spied for the Revolution, but the British believed I spied for them. If Cornwallis ever found out, he could have taken my life, but I was willing to do my part for freedom.
I would tell General Lafayette what Cornwallis was doing, and together, we would create false information to give to Cornwallis so he would not suspect my silence. Soon, I gained Cornwallis's trust so much; I was allowed to look at original battle plans. I saw what they were doing. The British were soon going to move to Portsmouth where they would camp for a few weeks, and then drop all the British troops off at Yorktown. I informed General Lafayette regarding these advancements, and he talked about this with the leader of the continental army'General George Washington. They agreed that when the British arrived in Yorktown, I would have to convince Cornwallis to stay there. I did not know what that would lead to, but I did as I was told.
While the British sailed to Yorktown, the Americans went to Williamsburg; they could watch the British from there. Slowly, I saw ships arriving at Williamsburg when I went to General Lafayette, but they were not British or American ships; these were French warships. The French had finally arrived to help the Americans win the war, now that it finally looked hopeful.
Cornwallis wanted to keep moving as was the original plan. However, I showed him a crumpled piece of paper that I had 'found' on the road.
It carried false information which I was assigned to give to Cornwallis to deceive him. Based on this newfound information, Cornwallis decided to stay in Yorktown for a few more weeks; by that time, the Americans and the French had surrounded them. The French blocked the British supply-ships from coming into the bay, thus depriving the British army of much needed ammunition and food. At the same time, the Americans fought to surround the British so they could not escape by land. Slowly, the British soldiers gave in to hunger, and after a three week siege, on October 19, 1781, Lord Cornwallis surrendered the troops on behalf of the British Empire. The war was over.
The British soon left America. A few years later, General Lafayette filed an application to set me free in return for my services to the cause of liberty. I was grateful for his guidance and adopted his surname, Lafayette.
My name is James Armistead Lafayette. I am a farmer, and I am free.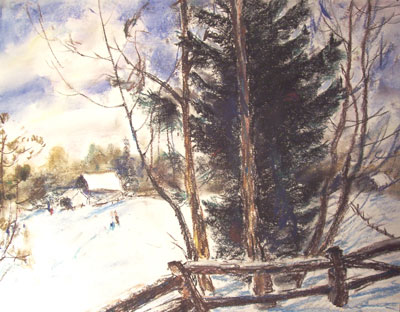 © Xiao H., Naperville, IL