Tornado Odyssey
December 25, 2009
Dark shelf clouds decorate the sky on a particular summer day. It was stifling and hot. A light breeze swept across my face every now and then. My mom and I were headed to Oklahoma City. I was 10, and it was one of the first times I was old enough to know my great-grandfather. Walter Mundy was turning 80 that week, and we were going to be there.
--We loaded enough belongings into the car to last us just a few days. It was a five-hour drive to Oklahoma City, as long as we did not stop. My mom checked the weather before we left, and not to our surprise the weather was out to get us. A series of tornadoes touched down just west of the highway we would be traveling. It looked as is we had a storm to race.
--In an attempt to stay calm, my mom and I jumped in the car and turned on the radio to sing along. We drove and drove, in the back of my mind I thought about the storms. I watched the clouds change shape, taunting me. I watched one cloud in particular; it seemed to catch my eye. It rumbled and growled. It seemed to grow to be a larger and darker cloud. Before I knew it, it was watching me. My stomach turned and I felt a knot form. My fear rose. At any moment it would reach through the glass that separated us and take me away. It began to reach, an enormous black arm moved in my direction. Then as quickly as it had appeared, it vanished.
--At that moment the car veered and we exited the highway. My stomach was talking to me; it was time for lunch. A small gas station was visible through the, now pouring, rain. We quickly ran from the car to the front doors of the gas station; we were soaked. As we stepped inside, we noticed that the small television sets, located in each corner of the store, were turned to the weather channel. It displayed warnings and watches for all over the states of Kansas and Oklahoma.
--My hungry stomach ached and yearned for the food around me. It gurgled and snarled. It was screaming for food. So many thoughts buzzed through my head. I wanted to eat but the anxiety the storm was putting on me was almost enough to suppress my appetite.
By the time my mom and I had decided what to do; I had completely lost my appetite. I turned away from any food and listened instead. My mom had figured that we could, most likely, beat the storm. I trusted her and we set off once again. I paid no mind to the clouds above me but kept my eyes on the road. We were silent and I held my mom's hand for comfort. We drove behind a white Cadillac Escalade; they seemed as cautious as us.
--The sky had blackened. The shelf cloud began to move more rapidly and a branch of the cloud began to reach down. It was windy and the Escalade in front of us was barely visible. In the distance, the funnel quickly approached us. Mother Nature never ceased to amaze me. Just when you thought it couldn't get any worse, it did. A dark "thing" appeared in front of us, moving in a rotating motion. My mom analyzed the "thing" and when the Escalade completely disappeared into it, we knew we weren't going to make it. My mom drove the car into a ditch and back out onto the highway, going the opposite direction that we had been going. I don't know what happened to the Escalade or what that "thing" was, but I didn't want to find out. Every part of my body was trembling with fear, from my pinky toes to my head.
I didn't know what to think or do, so my instinct was to watch the tornado. It came closer and closer; my mom drove faster and faster. It would reach us in a matter of seconds. I imagined the tornado to have a face. It had slanted eyes and eye brows, a large nose, and a wide mouth that bore large white teeth. It would swallow us like a pill. It was destroying everything in its path. Telephone poles, fences, and the few barns that sat along the, once peaceful prairie of Oklahoma, were destroyed. We approached an exit to a very small town; we noticed it had a Wal-Mart. My mom didn't really want to stop there so she looked for an even safer place. She found one, a nice hotel that had a basement. We ran inside to find the ladies there were very nice; they welcomed us and showed us to the basement. From there we watched the weatherman discuss the F5 tornado that had been chasing us down. It had ripped through the town nearby. I remembered the face I had seen in the tornado and thought that maybe it ripped through other towns, searching for us. This caused my stomach to still be uneasy.
--Some time passed and the warnings had been terminated. It was past mid-afternoon, headed into the evening, and we still had a few hours left. The dark shelf clouds passed and the sun began to shine. I was 10, and it was the first time I ever had to be that brave, but we made it to Oklahoma City. Walter Mundy turned 80 that week and I was there.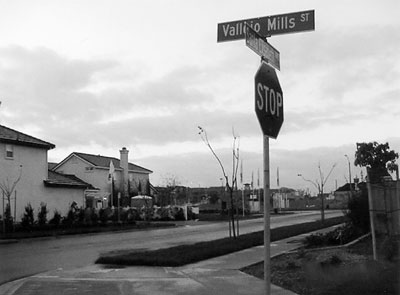 © Anthony Q., Chula Vista, CA