Summer Love
May 10, 2010
I'm stuck between a rock and a hard place. This dream I'm supposed to live out couldn't be any vaguer. All I have to go on is the forthcoming summer, the hot weather, a crowd of people, and yellow flowers. So, if I focus only on that, will that change the outcome? If I put that as the only thing in my mind, will that blow everything out of the water? My mind is now reeling, the pictures of the downtown's cobblestone road being tossed around. The people on the brick sidewalks in shorts and dark sunglasses and tank tops walking their dogs couldn't seem any more preoccupied with nothing. They laze around and just let the sun go on. How is it going to be in two months, when I start working? I will have my breaks, but I will walk around to that once forsaken place, being forced to see your face almost every day. I'd rather not even be in the same vicinity as you, but that is a force that I cannot stop. All I can do right now is stare at the pillows on my bed as I write this, and watch the sun fade in and out from behind the clouds, casting a cool glow, the wind slithering in through my cracked window. It blows my hair around and reminds me of that day outside in gym class, when I was playing golf.



You were walking on the track. The wind blew my hair around and obscured my perfect view of you. I missed the birdie by about seven feet. By then, you started running, and you bounded around the track before I had time to exhale the breath I'd been holding in. I missed you today. I didn't see your face in the hallway. I didn't see you walk into the school with your younger brother and cousin, through the front door. Like you always do. There are almost no days when the three of you are here at the same time. Strange. It seems like there is an impenetrable little circle when you all walk on through. No one would dare to touch it until you split up, and I would not blame them in the least. There is something unnerving about your presence. All three of you. I want to know what makes you all so untouchable.



She walks in the hall. She turns around at the sound of someone's voice calling to her. She sees someone and he comes up and gives her a bear hug. They kiss. I stand at the vending machine, watching you and she in the reflection, wishing it was me. I grab my snack from the humming, buzzing machine and shove my hands into my pockets. I slither past you two lovebirds, being extremely careful to make no eye contact. If I had so much as even looked back, I would have lost it. I would have ripped her away from your grasp. I would have stolen you all for myself. I love you. I want you. And I can't have you. That kills me.



Summer is fast approaching, and I wonder if this supposed "dream" will ever make sense. Will something bad happen that leads me to someone? Will that someone be you? Will that someone be someone that I don't know? The yellow flowers, what role will they play in this whole charade? I ask these questions to myself. I ask these questions to myself as I write them at the same time on my crinkled and folded and re-folded piece of notebook paper. The wind blows it from my grasp as I walk on the brick sidewalk on this unerringly hot Mid-May afternoon. It blows out of my hands, and I scramble to catch it through an oncoming traffic of people. Where did they all come from? I decide to write it down on my list. The paper blows and gets stuck in some weeds. I finally catch it and bend over to grab it. I lift it from the weeds' grasp and discover the slightest, smallest blooming of little yellow buds. I freeze. I look around for any sign of, well, anything really. When I wait five minutes and nothing has happened, I continue my trek through the crowd, with my head in the clouds. I finally decide to just let time fly away, and let it make my decisions for me.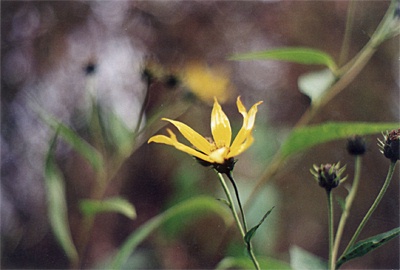 © Scott R., Casco, MI