Seemed to save my life.
August 9, 2010
What is the definition of being "loved on?" This is coming from me, Alana. Who am I? I'm the girl wearing pink dresses all summer and pink converse in the winter with jeans. I'm the girl with piles of books all across my bedroom. I'm the girl practicing yoga in spare hours and eating froyo in spare minutes. I'm the girl ready for an adventure and I'm the girl ready to remain under the covers and just have someone come wrap their arms around me and cuddle.

My parents always seemed proud of me. They were relentless when it came to me and me "getting out there," as they referred to the world beyond my paint brushes and my sketch books. There was evidently a world beyond photographs and lyrics. I could create as much as I wanted but at some point I would have to venture out and live my creation.

I was in eighth grade when my parents divorced. It was a standard divorce – mom kept the house, dad got an apartment. I lived with my mom during the day and spent time with dad in the evenings and on the weekends. It was hard to get used to toting everything I owned from house to apartment and apartment to house but I adjusted.

It was really a normal life. I wasn't proud of myself, my life, or my family. I was ignored, stepped on, and forgotten. Mom was busy with her personal life and dad was busy with his personal life. They didn't have time to help or listen to me. Unless I did something wrong.

I met Tyler when I was sixteen. He was in my junior English class at the high school. I stared at him under my bangs and layers of dyed black hair. If you looked at me, you saw me with a half smile. Tyler wasn't much taller than I was, just over five feet. He was painfully shy with braces and wide blue eyes. He adjusted the collar of his polo shirt as I said his name.

"Hey Tyler, I'm Alana."

"Hi." He looked confused and bored but it didn't stop him from forcing a smile.

"I liked your term paper, it was really good."

He nodded and stared at me.

"Well, see you tomorrow," and I headed off down the hall to lunch.

Why was I so interested in Tyler? I wasn't really interested in anything that didn't come with a definitive ending or at least my control, much less interacting with people. But Tyler reminded me of myself. He seemed unprepared. He was nervous, swallowed up in a fray of labeled students and imaginary confidence. Bottom line, Tyler seemed more lost than I was. For whatever reason, it became my mission to make Tyler smile, and ultimately get inside his head.

We started talking in English and we eventually started eating lunch together. English class and lunch eventually turned into phone calls and movies on Friday nights. Even though we were becoming close there was still a distance between the two of us. My heart pounded and sweat covered my forehead when Tyler sat down on his couch and turned the DVD up.

"Want some ice-cream?" He asked, without looking at me, without emotion in his voice. It was beautiful.

"Not yet. Thanks Tyler."

We were eighteen and it was summer after we had graduated high school when we started dating. "I don't know if it makes sense for me to be in a relationship with you." He looked real and he looked like a sea of colors that I painted with. His eyes sparkled, wet. "But I want to put my arm around you, Alana."

We were walking down the street that was between the river and the city. It was quite and yet so loud.

"Can I kiss you?"

"I've never done that before, I might not know what I'm doing."

"If it's you then it'll be perfect." And with that, he leaned in and kissed me. It was raining lightly and we were under the street light. The falling rain looked like sparks. It was almost completely dark. I grabbed his hand and leaned in and he kissed me again.

Tyler said we would always be friends and I said the same before we dove into a relationship. He said nothing would change his love for me. I remember all the memories leading up to present where I waited for him, listened to him, loved him, encouraged him, heard him… It was worth so much. When he had no one, he had me. It was great for awhile but then something happened and I don't even know what.

My dad remarried the spring I turned nineteen. I was working fulltime and taking college courses online. That was the beginning when everything started to change. Tyler's first love came back to town. Her name was Hannah. Tyler and I both agreed she was endlessly, effortlessly beautiful. He cried during the whole spring season. The tears fogged up the windows of his room. I sat on his bed with him as I tried to understand but I never could. Hannah and Tyler started spending time together which was fine. I knew that she had defined him for better and for worse all those years ago.

But we continued drifting away. Tyler's tears turned into laughter and smiles. When I witnessed it, it wasn't sweet but it was bitter to me. Tyler didn't talk to me for a month straight. At the end of summer he came to my house and I turned away from my easel to find him standing in the doorway in a hoodie with flushed cheeks.

"How have you been Alana?"

The sun eclipsed him. All I saw were his features shadowed with falling sunlight. His eyes looked hallowed out. "I'm good," I nodded for good measure.

"I'm glad to hear it."

But I didn't stay to talk to him or to hear what he had to say next. That was different for me. I hung onto every word he had to say. I remembered when I first fell in love him. I thought he was beautiful in his unknown incredibleness. The claustrophobic world he lived in was thick with heat and shadows. I was obsessed with the darkness he walked in. Tyler presented a world that I could hide in, with him. Maybe it was a safe place from my own world which was like a card house.

I lived in a place where I had no idea who I was unless I agreed with someone. You said something and I responded "me too." Every chameleon move I made only sucked more life out of me. Tyler was uncertain and uninterested. It became my identity to help him. I inspired him. He gave me meaning.

But he never stopped loving Hannah and I stopped loving him. He let me go with words unspoken. I answered back with a smile and headed on my way.

What was love? If I was so sure that Tyler and I were meant for each other and it broke then what did I know about love? My mom and my dad divorced after what I thought was thirteen very successful years of marriage. They didn't know each other and ultimately they didn't even know me.

I met Kate not too long ago when I cut my hair to my shoulders and colored it back to its natural color, a light brown. I washed off my henna tattoos and took the blood red sheets of my windows. My tears turned into silence. My art work turned into blogging. I wrote down my thoughts, my dreams, and my experiences. It was addictive. I posted these blogs on a blogging website and girl named Kate commented. She was five years older than I was, twenty four.

We met for coffee on a cool, breezy fall day. She became my best friend. When we were not around she said next time she saw me she was "going to love up on me." I didn't know what that meant but I wanted to do it too. So I embraced the people that came into my life by "loving up on them," which I still had no idea what that meant.

I thought it looked something like I was aspiring to do. Which was being affectionate, caring, not self-seeking, forgiving, and open minded… It was being free and trying to fly with my wings and then teaching others how to do the same by saying "I love you." It was crazy but something about this all seemed to save my life.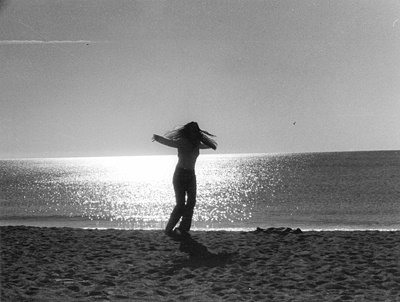 © Denise A., Marblehead, MA