After You, Warrior
MAG
August 29, 2010
When Alex finally emerges from the empty classroom, looking as if he has barely survived a perilous confrontation, the sun has already disappeared. I check my watch – 8:56 p.m.

"You're alive," I say. "A bit beleaguered and rough around the edges, but still breathing."

"Trying," he gasps, as he pretends to limp out of the building. I'm sure he's envisioning a dramatic exit scene, complete with the building exploding in a magnificent shower of flames behind his slowly retreating figure. His downfall is the locked door.

I shake my head as I step around him, pushing the side entrance. "After you, warrior," I say mockingly.

"They tried to cut my wings, silly things, but that didn't keep me from flying," he quotes as he steps out the door with his head held high. He refuses to add a wounded pride to his list of battle scars.

"Don't use my words against me."

"They tried to smother my dreams and suppress my self-esteem, but that didn't keep me from trying."

He's lucky the teachers like him; otherwise, he would never be allowed to stay so late to finish a test. I suppose it's my fault, as I never actually helped him study the day before.

Instead, we had caused trouble.


*
*
*

We sat on a park bench that, sagging with age, made the most conspicuous creaking sounds I had ever heard. I opened a newspaper to block our faces and peered over the top. "Everyone's staring," I hissed.

"Try acting normal for a change," Alex said, as he snatched the paper from my hand and flipped casually through the pages. "Besides, aren't you inspired yet? We've been sitting here for nearly three hours."

"No," I replied stubbornly.

I continued to scrutinize the odd trio beneath the apple tree – one man with soft, brown eyes and a goofy smile, and another with windswept hair and a devious glint in his eye. Both were fighting for the attention of the doe-eyed woman.

I rolled my eyes. The Machiavellian was hardly playing fair, and his opponent was allowing it. "Sportsmanship is a highly treasured virtue, boys," I muttered under my breath. Somehow my search for inspiration had turned into an appalling melodrama.

"What?" Alex asked, looking up.

"Oh, nothing, nothing."

"Still having trouble?" he continued, completely missing the point. "I've always been told to paint a picture with my words. And myself, I enjoy abstract art. Much more intriguing. For example, look at her." He gestured toward the giggling woman. "Her laugh is the complimentary prize found at the bottom of a cereal box – freely given, but made mostly of plastic."

"Then her smile is the cereal – coated with sugar, but lacking substance," I said with a mocking grin.

"And her eyes. They're the sugar – lethal if consumed in large quantities."

"Tell me about it. Those two will be experiencing a pair of nasty headaches in the morning."

Alex nodded seriously. "See the one on the left?" He gestured toward the devious one. "He's the inexpensive present you would give a friend's friend on her birthday."

"Ah. His charm is the shimmering gift wrap – deceptive and misleading."

"And his affability is an unshakable thing. If you shook the package too hard, you'd find that there was nothing in it."

"Of course, his loyalty is the actual hand that shakes the present – eager to open one and to move on to the next." I sighed in ­disapproval.

The other, quieter man approached us at that moment, curiosity adding an edge to his eyes. "Is there something I can help you children with? I couldn't help but notice you staring."

Ignoring his question, Alex said, "Now here's a classic piece of art. Classic, but clichéd."

The man wasn't completely sure whether he had been insulted.

"His eyes are buttons, wary as they prepare themselves to be pushed," I observed.

He opened his mouth indignantly, but words failed him.

"And his mouth is an expensive marker that has run out of ink," Alex added.

"His piercing, offended glare is a dull needle, barely breaking the surface of our nonchalant fabric."

Alex glanced toward the couple beneath the apple tree before silently assessing our subject. "His shoes are the empty spaces on his canvas – too large for him to fill."

I held the man's gaze. "And his slumped shoulders are the fear that he won't have enough material to even try."

He was speechless.

"Oh, you remind me of a story I once wrote," I told him as I leaned back to look up at the sky. "They tried to cut my wings, silly things, but that didn't keep me from flying." When he didn't reply, I added, "They tried to smother my dreams and suppress my self-­esteem, but that didn't keep me from trying."

"Go back over there and kick that other jerk out of your way," Alex said with a conspiratorial wink.

"Have you … have you been watching us?" the man asked.

"Umm, no. We've been observing," I corrected, afraid that he'd be mad.

"Yes. That makes it sound so much more scientific."

I glared at Alex, silently begging him to be quiet. But the man smiled and, with a slight nod, returned to the apple tree.

"Come on, I've got a test to study for," Alex declared as he stood and began to walk away.

"What?" I hesitated before following him. "Don't you want to know how it ends?" I asked sulkily, like it was some kind of television show.

"Use your imagination."


*
*

"Erika." Alex snaps his fingers in front of my face. "Come back to the present. I was saying that if I fail that test, I'm blaming it all on you."

"Your pride is a fallen soldier," I retort. "But it died for a noble cause."

"Oh? You must have been inspired after all," he says with a small amount of satisfaction.

"Yep. So it'll be worth it if you end up failing, right?"

No response.

We both know that he got a perfect score.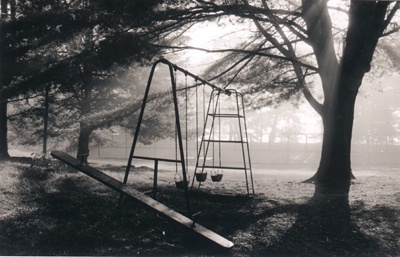 © Steve S., Marblehead, MA