(In Search of) Peter Pan
September 19, 2010
At age three, she had just been introduced to her new friend, Imagination. They soon became inseparable. He took her to far away lands, in search of pirate ships and space ships, all destined for distant planets. Although the adventures to these mysterious places fascinated her greatly, it wasn't until he took her to the most important place she will have ever traveled that she became his. He took her to her own backyard, where one tree stood; a tree known as the eternally-young boy's home.

**********************************

At age seven, closer and closer she grew to the boy they called Peter Pan. They flew together, toward the second star to the right and straight on until morning, to Never NeverLand, with the help of Imagination. He took her to the dwellings of his mermaid friends in the blue lagoon; to the Indian camp, where Tiger Lilly lived; to the ocean, where Captain Hook's pirate ship sat, moored. They had the grandest time exploring the caves and mountain tops, until Mother called her for dinner and she had to return home.

He was her Peter and she was his Wendy.

**********************************

At age ten, Peter was visited less and less as the weeks drew on. His home remained in the same place, in the same tree, in the same backyard as it always had, and yet, she only bothered with visits possibly ten minutes every few days. Video games, television and cheer leading occupied most of her time, and poor Peter remained in his tree, awaiting the visits of his dear friend, which slowly but surely became no more than once a week.

**********************************

Age 14 came along before either of them realized, and her ascent into womanhood began. Imagination had run and hid in the safety of the forest, and Fantasies were lost. Boys and "Dear John" dreams invaded her mind, and the boy who remained eternally young was left in his home in the tree, forgotten.

**********************************

Twenty-five, thirty-seven, forty-two, fifty-eight, sixty-three, seventy-four all came and went without her ever giving Peter Pan a second thought. The boy remained in his tree, NeverLand pleading for his return, but only to receive his refusal. He continued to tell NeverLand the same thing, again and again, "Someday..."

**********************************

Someday came at age eighty. Alzheimer's set in and childhood returned for mere moments a day. Peter visited when the moments came, each time amazed at how she had changed throughout the years. The cheerful three/seven/ten year old he remembered so clearly was no longer there. Life's hardships had left her face filled with scars, her skin sagged and her beautiful, blue eyes had faded into a dull gray.

But Peter still believed in eternal youth and begged her to come with him to NeverLand, where she need not grow a day older. But she had learned something in her years on the planet, and in a moment of clarity, she shared with him her revelation:

As an adult, you wish for eternal youth; you wish to return to the blissful days of childhood, where worries are obsolete and dreams reign supreme. But she learned that life is better lived to the fullest, where you are born, you live and you die. While some may think it seems a bit harsh, and while others wish to be as Peter, a boy forever, she did not. She had been born, she had lived her life to the fullest and now it was time she died.

But she also learned that life is full of regrets, and the one she remembered the most, "Is that you were not by my side."

**********************************

At age four, he had just been introduced to her new friend, Imagination...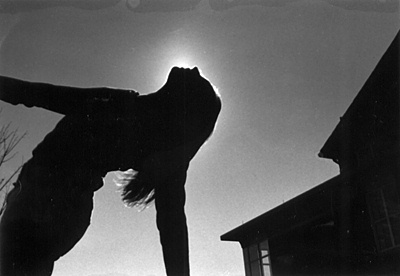 © Alexandra B., Marblehead, MA