Tide and Time Again
October 29, 2010
A lonely little girl sat at her window. Her eyes drifted to the tulips that were settled deep into the soil in the window box. She waited for her father to come home, but she knew he wouldn't. On the streets below, the Parisian sidewalk looked gray, not sparkly as she had always seen it. For her, everything was slowly turning gray.
Life wasn't always like this for Camille, though. When her father was still alive, she used to wander with him around the streets of Paris, France, her hometown, her birthplace. They had always gone to the Eiffel Tower at ten o'clock on Saturday nights, watching the bright lights flicker like stars against the black iron. Being a French soldier, he was sent to Chad in 2007. There, about five weeks before he was to return home, he died in a Sudan rebel attack on the village in which he was stationed. How she missed those times before her dad went off to war.
Her mother, always there for her only daughter of eight years old, tried to make ends meet. They had a small apartment in the center of Paris. Luckily her mother bought it before the tourism became too busy. She had lived in Paris all her life and because she loved and knew the city so well, she decided that she could earn a little extra money by becoming a European tour guide, almost always located in Paris. Because her husband had spoken the required English, she had learned with him, and could speak English now. She even taught Camille, who could currently speak English as fluently as an American.
Before her father died, he had loved the ocean. He would tell her stories of when he was a child when he would travel to the beach. He described the waves crashing onto the rocks and sand, and the presence of life that he could feel there. Before he left for Chad, he promised her that when he came back, he would take his daughter to the ocean, as she had never been outside of Paris. But because he never came home, the family didn't have much money. And because of this, they couldn't afford to travel, even a little.
Camille's ninth birthday was tomorrow, and she soon faced the realization that her only wish would not come true. Although she wished and even heard her father's footsteps on the sidewalk below, she knew that he wouldn't come home anymore. And she certainly knew that she would never be able to see his beloved ocean.
"Camille, would you please help me in the kitchen? I'm making ratatouille", her mother, Marie, said as she stepped into the doorway of her room. Ratatouille was her favorite. She loved the way the spices and flavors blended with the sweetness, meatiness and saltiness of the vegetables. It was her father's favorite dish, too. "I'll be down in a minute, Maman" she replied.
As she was chopping onions a couple minutes later, her mother told her casually that they would be taking a train to Nantes, a French town near the Atlantic Ocean, for her birthday. Camille stopped slicing the onion and looked at her mother in utter disbelief. "The ocean?" she asked. "You mean Papa's ocean?" "Yes," she replied, "Papa's ocean". While they were eating dinner, she told Camille about the train they were going to take and what it looked like. Camille had never been on a train before.
The next morning, they arrived at Gare du Nord, the Parisian Train Station. From there they boarded the train and left with good intentions, arriving in Nantes three hours later, although Camille slept the last two hours of the trip. When she stepped out of the train, she saw hundreds of people with suitcases, briefcases, and small children walking up and down beside the tracks. She grasped her bag tight underneath her arm.
It took a quick taxi ride to get from the train station to the beach. Since it was earlier in the morning, there weren't a lot of people. Most people there were just taking a morning stroll on the sand. Sea gulls screeched overhead, and the sound of the ocean waves sang into her ear. When she ran forward, her mother didn't stop her. She let her run until her toes hit the cool surface of the pale blue-green water. When the tide retreated, a light red crab emerged from the waves. It stopped two inches away from Camille's toes and looked her directly in the eye. This crab looks like it knows me. But it's just a crab, how can it recognize me? She wondered. Her mother always spoke of incarnation. Was it true that this could be her father in the shell of this crab? Could it be that that was why she felt the connection in that look? She was certain of it. As she reached down to touch it, the crab slowly crawled back into the water. At that moment she felt like her father was around her; she could feel his presence looking over her.
Her mother, shoes off as well, stood beside her, handing her nothing more than an old baby food jar. With one swift and delicate touch, she grasped the jar in her small hands and carefully screwed off the lid. She gracefully bent down and scooped the fresh, salty water into her jar, and wind whipping her hair, turned the lid tight around its neck. She knew that she'd remember.
Later, as the pair walked into the apartment, finally home, she ran up to her room. She placed the jar on her desk, knowing that she would see it every day. Looking at the tip of the Eiffel tower in the distance, Camille glanced at a man walking underneath her window wearing a colorful blue hat. It was the color of the ocean.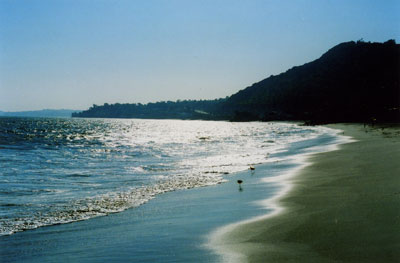 © Adam L., Washington, DC