No Seat Belt
December 6, 2010
Adrenaline surges through my heart. I look down at my sun-kissed golden skin. It's now bloodied with my own DNA. I notice that my heart is also pounding in my ears, my breathing gets heavier and heavier. The sky is dark. There are lights flashing in my eyes blinding me. I see the mouths of people screaming, pools of their blood everywhere and smeared across the wreckage. Shards of glass in every space, they shimmer in the LED illuminations. My thinking becomes a daze and my head weighs more and more, pulling me down. Suddenly the cement is right under my skull and people are tugging away at my gruesome body. I am left abandoned. No one is bothering to lay a hand on me. I am without help and cannot move, and cannot talk. With every scrap of energy I have I try to muster out a scream of help. There is nothing.

The world is pulling away, I can not stop it. Is it because of the color of my skin? Is it the clothes I wear? Family I come from? Because of my past? Why? The only thing I feel is defeated. Is it because of my friends? My best friends that happened to opt with trouble one summer; the summer that disoriented everybody. They tainted with the wicked, criminal, and illegal; they choose the incorrect path. I stopped my thoughts, and I thought about my mother. She stood by me that summer, she was the one always there telling me to, "keep going". I missed her and wanted her there to rock me the way she does, I wanted her to tell me those heartening words. I sensed how more-than-miserable I really am. A flood of my tears fills the crevices of the road beneath me. The salty waves spill down my face collecting the dirt as it goes, draining more energy from me. I just lay there and cry, I cry and cry and cry I know that I am bawling now. Hours later when I notice am slowing, footsteps are ringing in my ears; coming closer. The voice of a man, perhaps in his twenties says, "oh… she's dead." He must have a girlfriend because I hear her gasp, she says, "oh my God. Troy, what are we going to do?"
"I don't know, look, she has lacerations across her chest, like an unbuckled seat belt came and slashed her in a car accident."
"That would explain the car glass and metal, I just can't believe that they left her here dead," the girlfriend says tumbling words out of her mouth.
Every possible question runs through my brain blurring my mind with letters and words. How though? How can this be? I remember driving, but I don't remember how I got in an accident. But how am I still able to see and hear people? Why don't I feel dead, lost or gone? Shock takes over. Unseen tears roll diagonally down my face. The world pulls more and more away and all it will remember is my sun-kissed golden skin and my dazed looks. I think about what the man said about the seatbelt. Is it because it wasn't buckled? Everything goes dark, but there is someone, nor man nor woman and as soon as I see that someone, realization strikes my new being.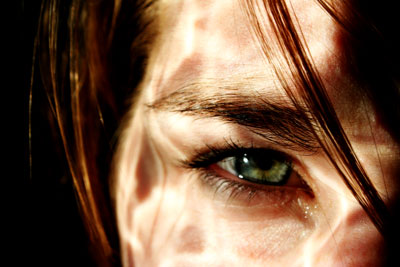 © Monica L., St. George, UT