Boards and Love
December 27, 2010
He wasn't the smartest guy in school nor was he the football hero. Though he wasn't popular, he loved me and I loved him. Our views on life seemed to always be identical and we could never stay mad at each other for long. He changed my life, this is how.


It all started on the first day of 9th grade. Freshman year. We finally made it to high school and I had just moved to this small town in Wisconsin.


Not knowing anyone, I was horribly scared for my first day of school. As a middle schooler, you hear horrible rumors of the upper classmen that lurk the halls of high school and they tend to throw the young wimpy freshman into trash bins. I prayed every night that these rumors weren't true.


I came from a skiing town in Colorado and now the closet hill was 30 minuets away. To my mom, I tried to stay happy about the move, I really did. She had just gotten a new job and I wasn't going to ruin her chances of this. I was ready for a new life, though I would miss my old home of wild snowboarders and avid skiers, I would have to adjust.


My first class of my high school experience was Advanced Math. I walked into the cream colored room with it's 20 some desks and light blue books waiting on top of them. The class then soon filled up and about five minuets later the bell rang to start the day. The start of the class consisted of the same lecture that would soon await me in all of my other classes. Then about ten minuets into class, a brown hair with a skateboard and headphones blaring came bursting through the door.


"Hey I'm sorry Mr. L. I forgot to set my alarm clock this morning."


"Well it's nice of you to join us now Mr. Brady. Go take a seat next to Miss Anna."



I watched as the boy flip up his board, and took the empty seat next to me. His eyes were blue and his smile was as bright as the stars. He was most likely a junior or senior, which most of the class consisted of. I was the only freshman in it, but that didn't stop me from taking this class.



An hour later the bell finally rang. The boy picked up his board and I watched as he headed to his locker. I continued my way to my locker. It turned out his locker was next to mine. I watched as he threw his board and bag in the metal storage space. As he did this, I grabbed out a picture of me on my snowboard and I hung it in my locker. He must of seen it because before I knew it...




"Hey, you board?"



"Ya! I pretty much lived at Keystone. Do you?"



"All the time. Um hey I'm Brady."



"Anna. What grade are you in."


"Junior. One more year after this and I'm free. You?"



"Freshmeat."


The bell rang to warn us to get to our next class. Brady and I said our see-ya's and we both left in different directions. At the end of the day, I found him outside the doors to the parking lot. He ran up to me, holding his phone in his left hand.



"Hey Anna! What's your number. We should go boarding together this winter. I wanna see your skill." His bright smile shone through his lips. I gave him my number then I walked to my brothers car. I saw Brady get into a black truck and pull out of the parking lot. Ten minuets later, I got a text. Guess who from! Brady


Brady and I had become good friends in the three months it took for the ski hill to open up. On opening day, Brady picked me up at my house and we ditched school for a wild day of fun. We snowboarder till closing time at ten. Brady then took me home, and he also asked me out on a date that Friday night.



Friday was finally here and I was more than excited for my date with Brady. We was my best friend and one of the coolest guys i had ever meet. I saw Brady at our lockers and then he gave me his brilliant smile and I watched as he skated down the halls towards the parking lot doors. At about six, Brady came to the door to pick me up. We went out for dinner and then to finish our night with some boarding. It was the most perfect night I had ever had.



Brady and I continued to date for the next year in half. It was now Brady's graduation day and I was not ready to see him leave me at school. I attended the ceremony and his graduation party, then came the day. It was the day Brady was going to move out to Utah and leave me. I loved him more than anything and I didn't want to see him go. I watched as he boarded the plane and I still remember that final kiss he gave me right before he boarded.


Junior year had started for me and I was not ready to face high school alone. Alone and without Brady. He had been there ever since my first day of freshman year. I was now the same age Brady was when he first meet me. I walked to my locker and then looked to the one next to me. A small little freshman was putting his books into his locker and I didn't even want to talk to the kid and see how he was. I miss Brady and I wondered where he was.


The next two years passed and I talked to Brady about once a week for those two years. I hadn't seen him since the day he left for Utah and I missed his amazing smile and eyes. It was now my graduation day. I was in my cap and robe, just about to give my speech and then the doors brusted open. Brady came running in dressed in a nice shirt and tie. He ran up on stage and he looked at me and gave me his amazing smile and then right in front of everyone he kissed me. It was amazing and beautiful. I loved Brady and I now knew he would forever love me.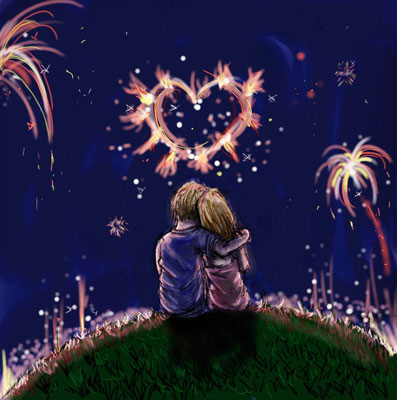 © Carissa G., Aberdeen, WA