Being Beautiful
January 11, 2011
I used to think I was beautiful. Whenever I heard "beauty comes from the inside" I would laugh- hot football players couldn't see the inside of you, only the outside. So the outside had to be beautiful. Besides, I thought I was nice. I pictured myself as one of those girls in chick flicks, the pretty one who had all the friends and was super nice. It was a fantasy, though, but I didn't know it at the time. I was way too self obsessed.

My best friends were beautiful, but not nearly as beautiful as me. I thought them to live by my rules- use mascara that makes your eyelashes thick and full, but only buy waterproof, because if you were to cry (a crime on its own) think black lines running down your face made you look terrible. Eye shadow had to be matched to your eye color, not clothes. Matching it to your clothes was tacky.

Your jeans size could not go above a four, or you were fat. You had to get your haircut in a flattering way, and you had to use product, blow dry and straighten it every morning. Hair was your most important accessory; you couldn't just let it hang there.



It was the Monday after Christmas break, sophomore year. I had swung open my locker to check my reflection in my mirror- my eyes were good, my hair was good- crap there was that red pimple I had seen that morning, peeping through the layers of foundation. I quickly grabbed my purse (Coach, of course. Name brands were key) and grabbed my cover up. The bell rang, but I didn't care if I was late for Chemistry. I was failing anyway, plus this was so much more important than Hydrogen and Oxygen.

I was busy coating on my makeup when I heard footsteps down the empty hallway. Sighing I turned around, making sure my long, chocolate brown hair whipped around and landed gracefully on my shoulder, the spiral curls I had put in today looking glamorous.

Someone was fiddling with a combination, a girl, I thought, only because she was dressed in a tacky plaid skirt and sweater. It could have been a gay guy, though, I thought, because whatever gender they were, they had no hair on their head.

I figured I had to know, so I walked toward them, in my black leather heeled boots. She turned toward me; yea it was definitely a girl. What girl would want to be bald?

"Hey" she said, and as I neared I saw she had no eyebrows or eyelashes, either. Her face was free of any makeup. "I'm Kim. I'm new" she smiled and held out her hand. Her nails weren't even painted. I was quite disturbed.

"Lilly." I replied, taking her hand. I had about a million questions.

"Can you help me? I haven't opened a locker in over a year." She laughed. "This is my first time back at public school. Ugh can you even imagine homeschooling? It sucks!" she handed me a paper with the combination on it, and I wordlessly opened it.


"Thank you!" she squealed, unloading a turquoise backpack. "Now if only I can learn to do that by myself…" she stopped talking and looked at me. I must have been giving her a weird look.

"Leukemia" she said, putting a thick notebook in her locker. "The chemotherapy they made me get made me go bald. I was mad at first, but it always grows back." She stood up and shut her locker. "Right?" she smiled and cocked her head, as if she was waiting for my approval. I was in shock.

I saw her in the hallway a lot over the next few days, always smiling and talking to someone. I wasn't sure what to say. Kim was bald, she wore bad polyester clothes and she didn't wear makeup but yet she had more friends than I did. What was with that?

"Have you met that new girl, Kim?" my friend Jess asked one day at lunch. "She's super nice!"

"Omigosh I know she's in my history class" Abby responded. "She, like, never stops smiling."

I wanted to yell at them. Didn't they have eyes? Didn't they see how bad she looked?

"I love her attitude" Monica chimed in, "She's been through hell with this cancer, she looks nothing like she wants to, but yet she's at a new school for three days and she already knows everyone's name!"

I took that in. Did I know everyone's name? I looked around the lunchroom. I didn't know any of the band geeks, or the drama club…I didn't know that one table of girls or those boys, and I had been at this school for eleven years.

Kim was waiting for her ride the next week, standing outside the school in the cold, a winter hat covering her head. I was leaning up against the wall, waiting for mine and texting when Mike, my hopeful future boyfriend walked out, and winked at Kim.

She giggled and gave him her mega watt smile.

"You look good" he told her, "really beautiful."

"Thanks" she said, clutching her history book. He leaned in and kissed her lips.

She kissed back, and giggled again. "No, you're not going to get cancer from that." She said, mockingly.

"I know" he grinned. "Hey, I'll call you later, okay? I have practice" he sucked his hands inside the sleeves of his jacket and started walking away.

"Mike!" I called, wondering why he didn't say anything to me, wondering why he had just kissed her, when I had dedicated my entire freshmen and sophomore year to him.

"Hey, Lilly" he called over his shoulder.
Hey, Lilly? That's all I got?

A white van pulled up, a tired looking woman driving. Kim walked toward it.

"We are so late for your shot" I heard the woman say to her, "And they wanted to take your blood today, too. And then we have to plan our trip to the hospital up north this weekend…are you sure you want to be in public school now?"

Her words drained out as Kim got in and shut the door. I blinked, as if something had hit me hard.

I was wasting my time. I wasn't beautiful- Kim was. I could wear as much Bobbi Brown and own as much Juicy Couture and Coach as I wanted, but Kim was so much more beautiful in her thrift store skirts and polyester shirts, without a sliver of makeup on her face. I could spend hours on my hair, but Kim had none and she was still that much more beautiful.

I thought about that the rest of the week and the entire weekend, seeing her in the halls smiling, kissing Mike, generally happy about life. I put myself in a whole new place.

On Sunday, I had the urge to call and thank her. After I couldn't find a number in the phone book, I texted Mike for it.

"She's not coming back to school" he texted back, "her leukemia came back, and she has to go to New York for more chemo and testing. She doesn't have a cell. Sorry"

My stomach dropped. She was gone, and I never had the chance to thank her for opening my eyes to the truth. I dropped my phone on my bed and vowed to live life like she did, to smile, to know everyone's name, to not care about what I looked like, but to care about what I acted like.


Kim never came back. She was in a hospital in the City for a month before God took her. I knew this through Mike and others at school, people who were Facebook friends with her mother and seemed to care a lot about her. She got a candle light service and an assembly at school, even though she'd only been there two weeks.

Maybe she was an angel. Maybe she was sent here by some greater force to teach me a lesson, to teach everyone a lesson. After she was gone there were more smiles and more laughter. I dropped my materialistic lifestyle like I vowed I would, and focused on changing my attitude. I even went to therapy for it.

My best friends didn't stay my best friends after I changed my ways. They were confused, and proceeded to spread rumors about me, but I surprisingly didn't care. I wanted to live the way Kim lived- carefree and happy. After all, she knew the whole time she was here that she didn't have much time left to live.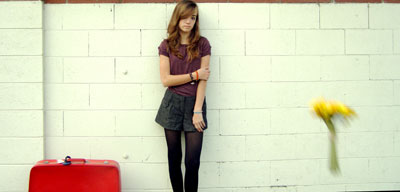 © Austin K., Studio City, CA