Coming Back To Butterfly Kisses
January 15, 2011
Her father's favorite song was "Butterfly Kisses" by Bob Carlisle which, by default, made it her favorite song, seeing as she was only five.
There were pictures of her with little white daises pinned to her hair, dressed in white, looking angelic and perfect. She was a daddy's girl.

They would listen to it together; his eyes budding with tears, and by the end, his face would be glistening. She would cry, too, because he was, and she didn't know why.

"You are my own little piece of Heaven, Abby" he'd tell her, "you are my miracle"
And she would say, "And you are my daddy, and I am the girl in the song, who will always love you."

And she would say her prayers by her little bed. And she would crawl onto his lap, dressed in her little white laced nightgown, her golden hair tickling his cheeks as she batted her eyelashes against his, three times, the "official" way to give butterfly kisses.

But "I love you" turned to "I hate you" as years passed, and she forgot her innocent promises. She argued with him about boys and what true love was, and she always thought he was wrong.
He was the worst person in the world. He was a maniac. He didn't know what was right for her. And there was no way she was kissing him, even on the cheek. That, to her, was gross. She snuck out when she was grounded, always thinking she was safe, always thinking he never knew.

But he always did. And he cried as he listened to "Butterfly Kisses" by himself, wondering if he was "losing his baby girl" faster than he should. But he promised himself she'd come around someday; love him like she did, once upon a time.

I knew because she was me, and he was my father.
And I never expected my father to have a heart attack at fifty two, right after I had exclaimed that I hated him, in a high pitched scream as I stomped up the stairs. The screams from my mother followed no more than thirty minutes later, as I ran downstairs and saw him on the ground, my mother sobbing into the phone. Ambulances arrived, and they took him away, my mother toting along. I stayed behind, too overcome with guilt and fear to see him. I was yet to go there, but, instead, played "Butterfly Kisses" on repeat, knowing that I would have no father to see me turn sixteen, or to give me butterfly kisses before he walked me down the aisle. It was my turn to listen alone and cry.



Now I sat on my bed, by the phone, waiting for the call to say he was in Heaven now. My eyes darted to my guitar by the window, as if a higher Power told them to, and waiting suddenly seemed so wrong. I picked it up and pulled on my only dress, fabric stretching to mid-thigh length and pink, and I went outside and gathered some little white flowers to pin in my braided hair. I looked in my mirror. I didn't look like me. I looked like the little girl who loved "Butterfly Kisses".

I walked into room 418 twenty minutes later, my mother's sad eyes just staring at me as I entered. My father breathed slowly in his bed, IV's attached everywhere.

"Abby?" My mother asked, as I pulled up a chair and hit a chord. My talent was in my voice, and I knew it, but I had never sung for anyone before.

"There's two things I know for sure…" I started, the words flowing out, like I had never forgotten them. I choked on the words, "With all that I've done wrong, I must have done something right…" but I worked through and finished, my face soaked. "But I'll always remember every hug in the morning, and butterfly kisses at night."

And his face was soaked.

"You are my miracle, Abigail" he whispered, in a scratchy, barely there voice.

"And you are my daddy, and I am the girl in the song, and I will always love you."
It wasn't my wedding day, but my mama was there, and I bent down to give him butterfly kisses.

He wasn't losing his baby girl. I was losing my daddy.
But that was ok, because God got to spend some time with him for awhile.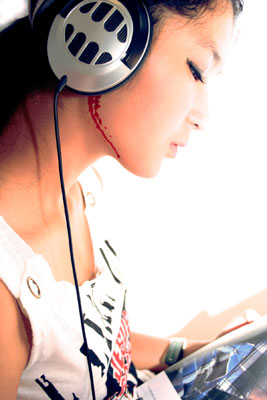 © Jiani L., Toronto, ON, Canada