The Story Of A Girl Named Holiday
January 22, 2011
Holiday Evans was different. Some may think it was her name- but if she had a Sarah or Jessica or Hannah type name she'd still be different.

Neighbors talked about her from time to time, the town was too small and there wasn't much else to talk about. So, the girl with the strange name who didn't talk often came up.

They talked about her mother, too, not that Holiday could tell if any of it was true. Lilly Ann had died giving birth to Holiday, and all Holiday had of her was a scratchy quilt , a piano and some Lionel Richie LPs.

Her father worked too long hours. He worked for something to do, not because he needed to. Holiday's issues were stressful on him, and he was depressed. He knew Holiday would have a fit if she ever caught him smoking or drinking, so he hid in his little office with his cigars and liquor.

Holiday had an innocent face, with dark, blue eyes and long red/ orange hair that stretched past her waist. She hid out in her room while her record player spun, losing herself to the music of the past. Sometimes she'd drag out her old bin of Barbie dolls while she was at it, dressing them in their perfect clothes, brushing their beautiful hair and lining them up. They all looked the same. Doctor Barbie had the same body as Beach Barbie. Beach Barbie had the exact same hair as Vet Barbie. There was no distinction, not one of them was different. There was no Holiday Barbie to stick out.

She didn't mind being different. She didn't even mind it as she sat in her academic support classes, taking in the knowledge but never applying it. She could get all A's, but she didn't want A's. She got whatever grade she wanted to get, simple as that.

Holiday didn't have friends. She had never uttered one word in school, not to her teachers, not to her peers, not to anyone. Sometimes she talked to her Barbies or her rag dolls and sometimes her quilt, but never to people. It wasn't worth it.

She wasn't stupid, like people thought she was. She didn't need to be moved to the Special Education school across town in ninth grade, just to relearn material that felt like kindergarten review. She could care less about coloring time or addition practice. She was sixteen, not five.

"I'm not mentally retarded" she told her father whenever he suggested having her tested. "I just have a lot to think about, and not a lot to say."

"Stop thinking about it" he'd say, squeezing a pen to keep his temper.

"I can't." and with that, she'd go to her room.
Elton John would play minutes later, and she'd lie on her bed, her hair spread out on the mattress, tears budding in her eyes. She was still in that car, on the way home from ice skating practice. Her father was driving, listening to Holiday babble on about practice, telling him how she got the party of the fairy, how she beat out eleven other girls because they couldn't do a toe pick.

And then, at the corner of Smith and Caddy Street, that Black Mercedes rammed them. Holiday still felt the jolt, the shock, the confusion. She wasn't buckled, sitting in the front, only nine years old. She hardly remembered blacking out, or the blood seeping out, or the fact she almost died. She still was in the yellow painted walls of the hospital room, the scratchy sheets irritating her skin. She was still hooked up to all the tubes and cords, looking at her father in his blue, plastic chair, wondering who he was. Wondering who she was, wondering where she was.

It was a strange case of amnesia, the doctors said. Holiday got her memory back slowly. She had to learn how to walk again and how to brush her teeth again. She still remembered the quilt and the LPs, though. She had to be shown pictures of her grandparents, cousins, aunts and uncles over and over until she had them down, but she could still recall the crash. She even had to be shown pictures of her past and identify the situation, but she could still recall the practice that night. The doctors had told her father that even though Holiday was gaining her memory back, the collision and other things, like the death of her mother, would always be blocked out. They said it was a miracle she survived the incident, let alone was remembering things.

Her father knew that Holiday knew that she had been involved in a car crash, but he doubted she knew more than that simple fact. It came to her all the time, the Technicolor memory. The fact her mother gave her life away so Holiday could have one always lurked inside of her as well. The fact Holiday would someday grow up and die herself, wondering all the while if her life was worth sacrificing her mother's for, or if it was just too dull and boring.

This ailed her and hurt her so much that she dared not talk about anything. She wanted to live perfectly, to make her mother proud, but yet, she also wanted to make Holiday a special person and not a Barbie doll. So she failed tests on purpose, just to prove her control in her life.

Holiday wore mixed matched knee socks over leggings and neon skirts. She wore fedoras and a different color Converse on each foot. People said she didn't know how to dress herself. Holiday was simply making a statement. She was crafting a Holiday Barbie.

Holiday had a secret, though. On nights when her dad was out until midnight, and she was alone in the house, she would wipe off her mother's piano and start to play. She didn't know how she knew what sounded good together, but she just did. And sometimes, she'd sing.
But that was Holiday's own little secret that no one in the world knew. She'd write her lyrics down and memorize the notes, until she had binders full of songs. When Holiday sang, she forgot everything bad and lost herself in her own, perfect world.

When winter when Holiday was seventeen, she was so lost in that world that she didn't hear her father come in. He stood, watching her, listening to her, praising her.
Her eyes darted to him and she shut the piano and piled her books up.

"Holiday, please, again." He said, quietly. Surprising herself, she sat back down.
It was like a river that came pouring out when she sang and played for her dad. She felt lighter, all of a sudden, like she didn't need to hide in silence. When she took her hands off the keys, ending a two hour long concert, she started to cry. She crawled up next to her father and told him all her fear and anxiety about her mother, and she told him about that car crash, how much she really remembered. She had a shaken up soda can in her, and it was ready to be opened. The explosion was bad, spilling over both her and her father, but they held each other and, for once, talked about it.
That night, Holiday Evans changed.

She changed in school, and she was transferred back to regular school for her senior year. She spoke, she got A's, and she made friends.

And she sang. She always sang. Holiday Evans was no longer different in a bad way. The neighbors stopped talking about the odd little red haired girl with the odd name, but the amazingly talented Holiday Evans.

Holiday was discovered in college, and signed on to release a single. Her friends praised her, her high school teachers wrote her emails and her neighbors sent cards and letters. Her father downloaded the song a million times, and when she released her first album, he bought all of the copies at the local music stores.

It made her laugh, sure. It made her happy, sitting next to talk show hosts and talking on camera. It made her insides glow when they talked about her quirky style of dress and how unique she was. And when she actually saw that Holiday Barbie doll, packaged and sold on the shelves of toy stores, she laughed.

But what really made Holiday happy, happier than anything, was that she was doing something with her life. And she knew that her mother was smiling at her in Heaven, always knowing that she gave her life to Holiday, and Holiday would make a miracle of it.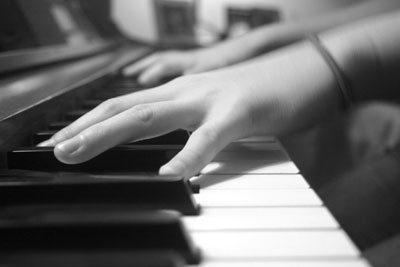 © Elizabeth S., Newton, MA