Girl War
January 22, 2011
"Omigosh did she look at her hair this morning?"
"Guys only like her cause she's so easy"
"She thinks she's, like, the best singer ever"
"What compelled her to wear that?"
"She used to be pretty. Now I think she's gaining weight…"

If words could kill, teenage girls would be murders. It was a secret world, when one manicured, perfect hand cups around a scarlet painted mouth to conceal a whisper, someone, somewhere, is being cut down.

What if she did look at her hair? What if she likes it curly?

How do you know she's "easy?" maybe she's looking for love, love she hasn't found yet. Maybe she's looking for the love her family can't give her.

So she thinks she's a good singer. I'll lay down money to say that the people baring perfect white teeth in the glossy photos in magazines didn't say their voices sucked.

What if that girl likes dressing like that? Wouldn't it be boring if we all wore the same thing? Aren't clothes something that helps create personality?

Her weight isn't your problem. And even if she is gaining it, it doesn't affect her beauty. All girls are beautiful, no matter the body size or shape.

If only we could all remember this, all the time.

God bless the few girls who can hold their own in a moment of sabotage. Most of us contribute, as if talking bad about another girl, whether it be our best friend or someone we don't even know, feeds something inside of us. It makes us feel powerful, as if we're better than them.

We all know the truth. Few are brave enough to say it. Few are programmed to speak up for their fellow schoolmates, for their friends, for their sisters.

And when we hear a rumor passed on about ourselves, we play victim. We cry to someone, as if asking for sympathy without asking for it. As if we were looking for someone to repair what another girl knocked down.

It's a stupid game we all play. We walk around presenting the expensive items we can afford, the word UGG on the back of our boots, COACH printed on our bags, JUICY on the leg of our sweatpants. Those who have money seem to think they climb up higher up.

But then there's the "she's a spoiled, rich, brat. She's so stuck up"
Does anyone need that on top of their stack of textbooks and pencils?

When did her business become yours? When your friend tells you her parents are fighting, is it your job to spread it to the rest of the "group?" We're blind to our boundaries.

It doesn't stop. Maybe candy apple red sports cars, perfect curls and bronze eyelids can possess you to think that you won't get talked about, but in reality, it doesn't work that way. We all talk about each other. We all find out sometime, from someone. We all get hurt.

We're different on the outside. We are chubby, skinny, short, and tall. Some of us dress like models; others dress in jeans and sweatshirts. Half of us care about makeup, half of us don't. Some of us blow dry, straighten or curl our hair before school, some of us roll out of bed and hop on the bus. But if someone looked inside all of us, they'd see the same thing. We all feel one way or another. Some of us cry, maybe too much, some of us hold it inside, but all of us feel. And all of us hurt in some way. So why do we continue fighting this silent war? Nobody is better than anyone else. We all have hurdles to jump over, we all deal with weight or clothes or hair or makeup issues. We all have personal problems at times. We all cry, in public or alone.

Maybe the "Girl War" is the longest running war of all time. Still no peace flag is waved, nobody apologizes or surrenders. We all bare our battle scars and dig into the fight again.

But we talk, and talk, and talk some more. Does the pain, the sadness, the anxiety ever go away? No, it doesn't. Not by talking about someone who looks less than you.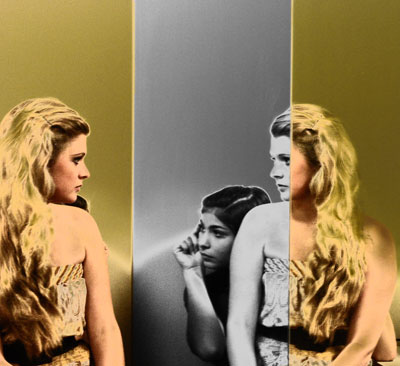 © Christian S., Jupiter, FL