Hypocrite
January 25, 2011
Come over here, I whisper silently to myself. Come on, Jay. Please. Wrap your arm around my waist, sneak up on me and hug me around my neck (you know I hate that), but please, Jay, come over.

He knows I'm looking at him. There's a huge group of students in the hallway, linking arms, chatting, hurrying to their after school lives. Lockers slam, sneakers squeak. It didn't matter, though. They could be ghosts for all I knew, just floating by without a sound. That's what it felt like, you and me alone in the hallway, the air quiet and tense.

I see it. I see you look at me out of the corner of your eye as you casually bite your nail, leaning up against Sampson's locker. He's talking and packing up his stuff. You try to be subtle.

It was a mistake, breaking up with you. It's only been a weekend and I'm already regretting it. When can we talk, Jay? Are we ever going to? I feel like a hypocrite. I blamed you for the same things I do…I need you right now. And I know you need me. You said you loved me. Do you still love me, Jay?

I know you hurt, because I do, too. You must hurt so much more, though. You won't come over, and I know that, because we're too similar. We're both too shy. And you think that I'm annoyed, angry…but no. I just miss you. I miss your kisses and your beat up old car, I miss our spur of the moment ice cream dates.

But yet, I don't miss your depressing thoughts, your dependency on me, and your desire to please me every moment. But doesn't the music, the laughter and the movies cancel that out?

The hallway is almost empty now. You start tapping your foot, I know you're nervous. You're wondering why I'm still here. Sampson is kissing his girlfriend and it's awkward for the both of us. You're there…I'm here…we were them, once.

He tells her bye, and you start walking. For a second, the ball of anger in my stomach turns to hope, but you pass right by. I don't blame you. I was even more depressed than you are, once upon a time. Maybe even right now. It's been a full school day and it hurts, seeing you and not knowing that you're mine.

You disappear, like a shadow, down the hall. It's strange- two people who once shared everything together now share nothing.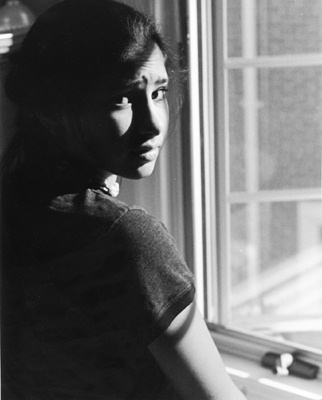 © Jennifer H., Bethesda, MD