I Can Feel It
February 25, 2011
Football. Parties. Girls. Running. Swimming. That's what my life revolved around before the accident. I would run up and down the field, my legs shooting sparks up my chest. I would go to the biggest and maddest parties of the year, drink it up with buddies and then talk with some really cute chicks. I would be the attention of all girls, the envy of guys, and the Quarter Back for my school, Carter High School for the Knowledgeable. Before the incident, my life was one big array of smiles, happiness, and simplicity. Heck, before the accident I was like God, controller of all, awed and loved upon. But that was before the accident. My mom tells me not to think about before the accident, think about the future and now. But my past somehow weasels its way into it, snapping itself in like an unwanted puzzle piece and making me think that when I wake up, everything would be normal.


The incident, well, it all happened on May 14th. I was with my best friends, TJ, Charlie, and Pop. At first we were calling the girls to hang out with us but they were all off doing some girl cr*p. So we decided to have a guy's day, an all out riot of craziness, burps, and spray cheese. But it didn't end up that way, not at all. We were talking and laughing about something Charlie said, something about Marisa having a big bootie. That's when the car came pass us. It was blue, a BMW, and had a license plate EQA-ASD. I remember the license plate more than anything else. I wasn't looking, but everyone else was. They all stepped back, expecting me to, when it hit me full force. The fast BMW sprang like a bullet into my stomach, pulling me down underneath its wheels like some automobile version of the Devil. "Henry!" they all screamed together. I remember thinking that they sounded so cool, saying my name all together, their deep voices tied at the same rate. Then I heard screaming, TJ cursing and Pop flipping out his cell phone. I heard the driver get out of his car, slam his door and fall to his knees, whispering, "Oh god, oh god." But then everything blurred together. The sound Pop's phone made when he hit on the keys, the rough way TJ kept cursing, the way Charlie stood above me, his mouth wide open, and the silent plead of the driver, as if he was the one who had gotten hit.


So, there you go folks, the story of me, Henry Harrison. The way I became like this. Not the football quarterback. Not the hottest guy in school or the fastest runner. Not the party animal everyone loved and adored. But the Henry Harrison that stayed at home, hiding in his bed, banging his fists on the headboard of his bed. Screaming, always screaming. I wish I could get up, walk out the door and run away, run far away so no one could catch up, not TJ, not Charlie, not Pop, or a blue BMW. And I don't mean this figuratively. The thing is, I can't get up. I'm paralyzed from the waist down. Yeah, say 'Aw, poor kid. Poor Henry Harrison or maybe call your folks up and tell them about the sad little kid who got hit by a car. Boohoo. But it doesn't hurt you as much as it hurts me. I can't feel anything, of course, my legs are just numb Popsicle sticks, but I can feel it in my heart. I can feel it in the roll of my wheelchair; in the hands my mom uses to help me out of bed. I can feel it.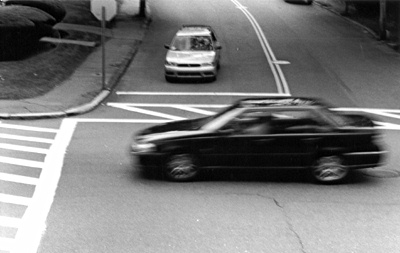 © Ed J., Marblehead, MA