Katherine
April 7, 2011
The two story house was small, but had a grand Victorian feel to it. The pale sea green paint looked old, and the roof was missing shingles. A gravel path led around the house to the back. I wanted to follow it. I walked up the front steps, shaded by a tree I didn't know the name of, and knocked on the screen door loudly. I waited a few moments, straining my ears for any sounds inside. A cloud moved over the sun and the sunlit area of the yard changed to match the shadowy part. I felt a shiver run down my spine, even in the perfect 70 degree weather. The door swung open and my aunt, well I guessed she was my aunt, stood there looking at me. Her eyes went from curious to gleeful, as she hugged me and said, "Welcome Katie," over and over.

"Hi Aunt Pamela," I hugged her back. Her soft brown hair tickled the side of my face. My own darker brown hair hung straight down past my shoulders. My aunt stepped back from me, a wide grin on her face.

"Oh, call me Pam," she winked at me then motioned for me to follow her into the house. Inside, I found myself in a bright cheerful living room. It was furnished with light wood floral couches and chairs and the room seemed a lot bigger than it looked from the outside. A neat little kitchen was diagonal from the front door. A polished wood staircase led upstairs and Pam hurried up it faster than I thought she could. I followed and found myself in another nice sitting room, with a TV this time and more modern furniture. A little hallway led off to the bedrooms I assumed. Pam hurried down the hall ahead of me, her shin length black skirt flowed around her chicken legs. She pushed open the door.

"The door's a little, uhh, stubborn." She smiled at me apologetically. Inside I found myself in a well furnished room with a fancy queen sized bed in the middle. A soft rug covered the wood floors that ran all through the house. I sat my only bag don on the floor by the bed and looked around some more. A beautiful oil painting hung above a wooden dresser and a large mirror with amazingly detailed carving on the frame.

"Wow, this is an amazing room, Aunt… I mean Pam." She was still standing in the doorway, she had not stepped in the room. Her hands squeezed each other nervously. She nodded slightly, glancing around the room too.

"Yes, it is, isn't? It was Katherine's." She turned and walked off down the hallway, leaving me in the room.

"Who is Katherine?" I asked to myself softly. I didn't know how important Katherine would soon be to me.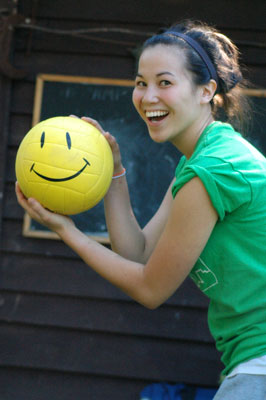 © Masaleen O., Palatine, IL