Graffitied Hope
April 9, 2011
The first one appeared on the rundown red brick apartment building near the bagel shop. One of the residents, Kara Less, had died the day before, killed by a stray bullet in the park. She was a single mother from an abusive home, slowly nursing her twin brother back from a heroine addiction. She had struggled with a dope addiction in her younger years and worked in a soup kitchen. But no one really knew Kara, they felt a passive sorrow at her young death and a blink of empathy for her orphaned son. But that was passing, the day continued like normal and no one thought twice of it. But the next morning a beautiful piece of graffiti outside her five story window depicted her in a blue snowflake covered dress with angel wings holding a candle and a blue ribbon. In gold paint and in Latin the ribbon read "Rest in peace beautiful soul." Everyone suspected her thug son Sammy, but the boy had terrible English and didn't speak a lick of Latin. He did however hold himself responsible for his mother's death. He felt a suddenly lift in his heart, like it had little wings taking it from the whole in his chest to where it belonged. His Uncle Peter stood next to him on the fire escape. He put a shaky hand on Sammy's shoulder and said quietly "I'm going to make things right for you and me. I owe Kara that. And she's probably looking just like that up there." The two men hadn't spoken in a month but in front of the graffiti they embraced, their shared sorrow and hope binding them tight. From below, a figure in red and black watched serenely with a backpack full of spray paint cans and nodded satisfied.

The second piece of graffiti was done three days after a local gay boy killed himself. He was found in a pool of his own blood on his apartment roof, a little black gun not far away. Four people attended his funeral. His boyfriend Jared, his cousin Beverly, his Grandma Sarah and a person in a red hoodie and black pants who didn't speak a word. Three days afterward an amazingly vivid piece of graffiti showed the dead boy, Stephen, in white clothes with grey feathery wings holding a glowing star in his softly colored palms. The pupils in his eyes where tiny night skies complete with tiny stars and one shooting star. It was right where he had been found dead with red roses where the blood had been. Beverly hugged the sobbing Jared and they where both held by the elderly Grandmother. "He was...so perfect." Beverly whispered. Jared nodded, clutching a tiny gold necklace he had been given by the deceased. Just like before, a new family had been forged in that moment beside the art depicting their loved one. Grandma Sarah would later adopted Beverly and Jared, since both had been thrown out by their parents. Jared for being gay and Beverly for defending Stephen from his parents. On a near by roof top the figure in red and black gripped another red rose, nodding and walking off casually.
The third angel was found at the gate of a girl with cancer's house. She was depicted smiling sweetly with a lamb in her arms, her blond curls returned to her like golden wind and shocking blue eyes with clouds in them. She wore pale pink with tiny little wings and sat on a meadow hill. Her parents broke down again as they had when they'd learned of her death two days before. They held each other and sobbed, the bitter scars in their hearts washed clean by the clear tears from their eyes. She would be in pain never again and be free. This unthought of before notion made them able to smile once more. The couple, Lisa and Derrick Andrews, would mourn much more, but smiles would come in time, because their baby girl Alyssa was in God's hands. The person in red watched from the corner and with a happy small smile, got on the bus and left for home.

All over the city of Cinderbrick these beacons of beauty and hope appeared for years. They comforted they living and tied the drifting hearts close with golden cords. They never found out who drew these figures of serenity and sweet repose, but one day the angels stopped appearing. Everyone tried to figure out who this mysterious miracle worker was. Finally they figured it out five years post his death. It was Elijah Zucker, a loner who had been beaten up and ignored in high school. He was killed while being mugged. One of the muggers was Sammy Less. When they found out Elijah, from a broken home himself and battling alcoholism at a young age was the man they'd killed and the angel painter, Sammy sat down and prayed for the first time in years. He went home and confessed everything to his Uncle Peter and turned himself back around, returning to school and dropping the drugs. He was seen back at the angel graffiti for years, weeping and apologizing. Elijah had a young illegitimate daughter, Rachel, from his ex girlfriend Marissa. Marissa was going to abort the pregnancy but Elijah begged her to keep the baby. Marissa had, but the agreement was she was no longer responsible for the child. Rachel, the daughter of the man who gave hope, life and family back to so many of the city was left to a foster home where she slipped between the cracks and faded from the world. Over time each beautiful angel was covered by curse words and gang signs. The buildings where repainted, the gate replaced and Elijah Zucker's name was written in disappearing ink on the books of time. But sometimes Jared would recall the graffiti with Beverly, recall the stars in Stephen's eyes with a smile. On occasion, the Andrews will think of their old gate with the angel on it while walking their son Zach and regret replacing it. Once in a blue moon Uncle Peter and Sammy will hug just because Kara's angel is on their minds. And one day in a dark alley where drug dealers stalked users like wolves stalk a young wide eyed doe, where broken beer bottles and used needles made mosaics on the grimy cement floor, a young girl with black hair and grey eyes spray paints an angel. A beautiful angel with glasses, black hair and grey eyes, holding a little girl angels in a warm and loving embrace. She'll paint a bit of water proofing over it and push her red glasses farther up her nose, shoulder a backpack of spray paint, out to finish her father's work. One day she too will die and all she's helped will forget her. She will fade into ash like an old love letter in the embers of a heated flame. But Rachel knows, just as Elijah knew, its a fight that you lose, but a fight you must fight. There must always be selfless people to bring angels into our world. They graffiti hope.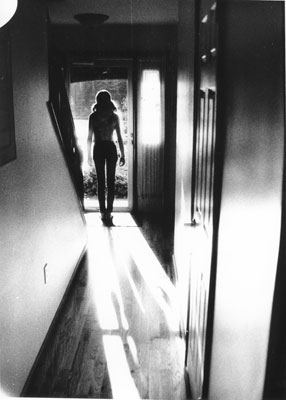 © Mike V., Morgantown, PA