No More Fishing
May 20, 2011
I stare down at my feet, floating in the clear lake water. My toenails are painted, hot pink the only color I brought with me to this stupid camp. Everyone else is off hiking. I refused to go. The counselors all tried to convince me, but they couldn't make me go. So here I sit on the dock, feet in the water, crappy fishing pole in hand. I asked if I could fish while they were away. Jackson, one of the head counselors gave me a fishing pole.

"Try not to fall in, ok?" He joked as he handed it to me. I didn't even smile. I have been sitting here for an hour, waiting. No fish are biting, probably because I didn't put a worm on the end. The unopened can of worms is next to me. I'm not ready to catch a fish.

"How ya doing, Emma?" The one counselor that stayed behind with me, Clair, kept checking on me every 5 minutes. Probably bored. I didn't say anything so she ran down the dock to me.

"Catch anything yet?" She asked, then she noticed the can of worms. "You have to put a worm on the hook so a fish will bite it."

"I know. I'm not dumb," I grumbled. I kept staring at my feet, wondering if they would be all prune-y when I pulled them out.

Clair took the fishing pole from my hands and reeled in the line.

"What are you doing," I asked staring up at her, agitated at her audacity to take something from me.

"Helping you," she said grabbing the hook as it flew up from the water. She knelt down and popped open the can and quickly had a fat worm threaded on the hook. She handed the fishing pole back to me, placing the bleeding worm in my hand.

"Now try," she stepped back.

I got the bobber out about 20 feet away. Satisfied, I plopped back down, expecting Clair to leave, but she to sat down.

"Why didn't you want to go hiking?" She asked setting her flip flops next to mine and sticking her feet in the water.

"I hate hiking," I said watching her feet swinging in the water.

"Secretly, me to," she grinned at me. "I was so glad when you didn't want to go, I just had to volunteer to stay behind with you." Clair looked out over the lake and I studied her face. She was tan and her brown hair was hanging down in waves my hair couldn't even dream of achieving. She wore little makeup, and she looked good that way. Her eyes were dark green-ish brown.

"I like fishing," I said checking my bobber to see if it was still afloat.

"So you didn't put a worm on the hook on purpose," she held up the now open can of worms. I just nodded.

"I used to go fishing with my dad, until her got really sick. He died the day after his 42nd birthday, this year. I haven't been fishing since, until now." I kept a straight face, but Clair was watching me closely now. "I wasn't ready to catch a fish without him." I glanced at the bobber and as my eye settled on it, it bobbed, not completely under.

"I'm sorry," Clair was saying, but my eye were trained on the bobbing bobber. My heart beat sped up and my hands started to get clammy. Suddenly, the fish pulled it under and pulled. I thrust the fishing pole at Clair, who nearly fell off the deck. I slipped my shoes and bolted down the dock.

"Emma? Emma come back! You caught something!" Clair was yelling for me, but I kept running. I ran for my cabin, slamming the door and locking it behind me. No more fishing. Ever.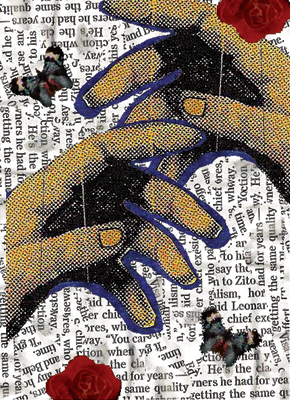 © Christine S., Arlington, VA