in the eyes of a tiger
May 29, 2011
In the circus, behind the stilted women, he first saw the back of her head and the purple train of her dress.
And she could feel his stare upon her, but somehow she couldn't return his, because he was the first and only boy she had ever been intimidated by. His eyes were too truthful, his gaze so penetrating.
When the lions stopped roaring and the crowd conversed and the children threw popcorn, he walked after her, reaching out for her yellow hair.
With her fingers trembling she reached to tuck a strand behind her ear, balancing on the balls of her feet.
He had stopped behind her, restraining his dust- covered hands, dirt caked under his nails, afraid to soil her lavender slip.
She could sense his hesitation and she turned suddenly, her cheeks flushed from the wild anticipation, from the heat of August.
The elephants stomped and the women giggled. Performers danced around them, shaking off costumes and smearing wet makeup. Ladies in leotards stood on diamond white horses, while a man behind them blew a breath of fire. The flames made his skin jump and he tried to lock eyes with her, her small dimples, her full lips and white teeth, but she would not look at him.
As the Ringmaster twirled his black mustache and snapped his whip, out of the corner of her eye, the ones avoiding his, she spotted a white tiger glowering at her. When she turned to watch the magnificent beast, those ice- blue eyes gripped her heart. But the strong men, with rippling muscles, shoved the tiger in its cage and his eyes became two bright dots in the dark.
He watched her examining the tiger and he leaned forward, not bothering to wipe his hands on his trousers, grabbed her soft hands.
She could feel the roughness of his, harsh, yet gentle, and she could no longer help it, but stared at him, swallowing a gasp. His hair was chocolate, his eyes a wide and playful green, skin as tan as a coffee bean. She sighed as he touched her cheek.
She leaned forward for a kiss, as the jugglers loaded away their rainbow- colored balls. He kissed her back, running his fingers through her yellow hair, as she acknowledged they were complete strangers. As she realized she was completely and irrevocably in love.
And he realized he would want her forever.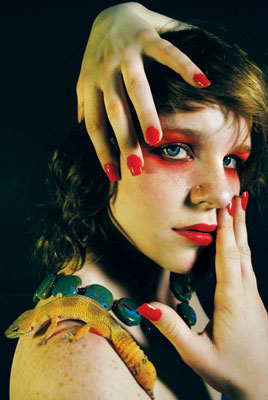 © Narongsukchai T., Sachse, TX