Self Healing
June 14, 2011
Kaisha folded the little clothes and pressed them gently into the miniature suitcase. She didn't want me to help, wanted to pack Megan's stuff away herself. She had sold the white crib and the white high chair to John, her neighbor, who's wife was expecting a baby in a couple months. I looked at the small collection of toys and the tangled mobile on the floor at Kaisha's feet. Little Megan was only 4 month's old and didn't have much more stuff than that.

"How you feeling?" I asked from where I sat on the padded gray rocking chair. The room echoed my voice since all was left in it was a small table by the window where Kaisha worked silently and the rocking chair.

"Still in shock." Kaisha sniffled and I watched her take a handful of tissues and blow her nose.

Kaisha turned to look at me and I examined her face. She still had a natural sun kissed glow and her eyes were dull gray, not a lively hint in them, and her lips were slightly chapped. She hadn't worn makeup since the day Megan had died.

"I didn't know why," Kaisha said it softly and I was confused.

"Huh?" I asked, pressing my bare feet to the floor to stop the slight rocking motion of the chair.

"I didn't know why she stopped breathing. It was in the middle of the night, I couldn't have helped her. She didn't make any noise," her voice grew volume and hysterics. She scrunched her face up and sobbed into her hands. I was across the room in an instant, hugging her while she cried into my shoulder.

"It wasn't your fault. You didn't do anything." I spoke slowly and she stopped crying. She let go of me and stepped back. Her face was in a malicious scowl and I stumbled back a few steps.

"You will never understand." Her voice snaked out of her lips, stabbing me right in the chest.

"I know, but..."she cut me off.

"You will never know what I have felt for the past month since she died. I think about her all the time and it hurts." Her voice cracked at "hurts," and she turned away.

"Kaisha, I just..."

"Leave. Leave me alone." She hissed at me and I just stood there, helpless.

"Kaisha, I'm really sorry," I said and I grabbed my bag off the floor by the rocking chair and left the room. I made it out to my car, and I felt tears prickle in my own eyes. I glanced up at Megan's window, and saw the hateful eyes glaring at me, but I could see the sadness and helplessness in them. I just got in my car and drove away.



"How was Kaisha?" My roommate, London, stepped out of the kitchen, a paper plate in her hand. Kaisha and her weren't very close, but she felt really had after Megan died.

"She's in a bad mood. Got really mad at me." I sat my bag down on the sofa and flopped down next to it, exhausted.

"She'll get better over time." London went back into the kitchen and I heard the cupboard open. I just sighed and prayed she was right.

ONE YEAR LATER


"Knock knock!" I laughed as I opened the hospital door to Kaisha's room. She just rolled her eyes at me.

"Did you get me some chips?"

"Yep," I pulled a bag of Lays from my purse and tossed them to her. She caught them and ripped them open in one swift movement.

"How ya feeling?" I asked sitting down in a chair next to her.

"Good, just want this thing outta me." She patted her big stomach and I smiled.


Me and Matt, her boyfriend and the baby's dad, waited all day with her. When the big pushing came I held one hand and Matt held her other one. I followed the nurses as they took the screaming infant away, wanting to see if it looked anything like Megan. Ever since the day Kaisha flipped out at me, she hadn't spoke of Megan at all. I just imagined it was her way of healing.

They let me see her, after she was all wrapped up in the white with yellow ducks on it blanket that the hospital provided. She had Megan's chubby cheeks and slightly puckered lips. I couldn't have told them apart.

"Do you know what her name will be?" The nurse smiled at me.

"No, she hasn't told me." I went back and Kaisha seemed kind of woozy.

"What does she look like?" She stared at me with hazy eyes.

"Beautiful," I said and then Kaisha went to sleep.


"Can I see her now?" Kaisha was all sat up, practically bouncing in her bed, begging for them to bring her the baby.

"She's on her way over here!" I said for the tenth time. I was sitting on the hardly padded chair that was in the room. The door opened and Kaisha gasped as the nurse walked in with the bundle cradled in her arms. As she put the baby in Kaisha's arms, I saw the tears in the corner's of Kaisha's eyes.

"She's so amazing. So little," Kaisha let the little girl clutch her finger with her small hand.

"What are you going to name her?" Matt leaned over and kissed Kaisha's cheek and she just stared at the baby.

"Megan." She whispered.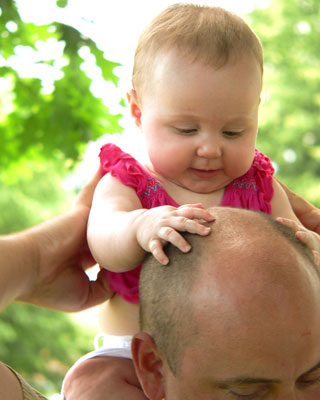 © Lukas D., Conway, AR