Meet Me Halfway
July 12, 2011
The young woman looked around anxiously. She was wearing a headscarf, and her body was covered. Her face was beautiful, though. She had a small child with her. He tugged on his mother's hand ceaselessly, wanting for her to pick him up.

She couldn't though. Her hands were full of bags. The airport was crowded, even more than usual because it was Christmas and people were going everywhere. The woman once again craned her neck. She saw a vendor selling hot dogs, an Abercrombie store, McDonald's. She saw a father arguing with his children, who were pointing towards the food court. She saw an old woman reading a thick book, waiting for her flight. She saw a chauffeur holding up a sign. Kumar it read. The sign wasn't for her.

"Pick me!" The boy cried. He held up his arms, waiting to be carried. The young mother ignored him.

"He said he'd be here." The woman muttered worriedly. Although, she was short and that's why she couldn't see him. She'd trusted him and he said he'd be here. She started to feel tears escaping her eyelids. He said he'd be here!

She was frantic by now, hoping that he was safe. She prayed he was safe. He promised to take her away from her horrible husband. He promised her a new life. Just us. He'd said, smiling only like he could. She had smiled back.

"Mommy!" The boy cried. She looked down at her son. His son. The beautiful boy was bawling his eyes out, hoping he'd get picked up. The woman sighed, and hugged him. They were jostled as the next flight's passengers entered the terminal. Once again, she looked around for him. She didn't know any English. Neither did her son.

Her eyes, once again, roved the terminal. He was late. She thought. That was all. He was late. She heard a cough to her right side and turned. She saw a man wheezing. She felt a twinge of sympathy. But she could not afford to talk to him. She had to keep moving.

If she had been alone, then she would have sat down and sobbed. But her child, her child was worth more to her. She made herself strong for his sake. She held out her hand, and her son grabbed it. "Grab the suitcase." She said in Arabic. The young toddler held it as he went followed his mother out.

The mother looked around, trying to find a kind face. It was a flash at first. She whipped her head around, trying to make sure she wasn't dreaming. But it was there. His face. He wasn't lying. He came, like he promised.

They fought through the sea of people to meet. "Didn't I tell you I'd meet you halfway?" The man said in Arabic.

The woman cried and nodded. "We're halfway." The boy just stood there, dazed. His mother had hugged a complete stranger and was crying. She also seemed to be talking in strange messages that he didn't understand.

Finally, his mother bent down and pushed him close to the man. "This is your father." She whispered.

The boy's eyes widened as he took in the strange man. "But Alam is my father."

"No." The man said. "I am. I have waited a long time to meet you." He bent down to touch the child's face. The child looked from his mother to the strange man, and decided he liked this man better than Alam.

"You are my father." The boy agreed.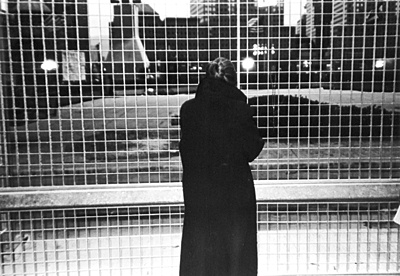 © Morgan H., Marblehead, MA