Seeking Salvation
July 6, 2011
His eyes were lost as they gazed at the sky. He was nothing. He felt numb. And though he thought that, it surprised him that tears flowed out from his eyes. Why was he crying now? What was the point in even doing so? Everything was lost and nothing could be done to regain them.

He had lost everything, every single thing that held piece of his heart in one single night, in one single atrocious act of a man. The boy laughed as he remembered. It was so divinely twisted, so wrenchingly beautiful. The pool of blood was majesty. The dying screams were nothing short of brilliant music. The fear in the eyes of those he loved shone like a diamond under the blaze of sun. And he hid under the bed, watching in terror as his family was being slowly murdered. He remembered the moment of connection between his and Serin's eyes. There was love. There was fear. There was good bye.

There was hate.

He could have called the police, could have defended his family with the knife his fists bit unto. He could have saved them.

But he didn't.

He was just so scared. Terror clung into his heart like chains of darkness. He bid himself to move, to put the damn knife into use. He would have. He would have. But fear paralyzed him. It froze him, encapsulated him in a casket of ice, where his frozen body remained in a stand-still of time. He watched his family die. He let them die.

The boy was mad with laughter as tears streaked down his face. His eyes, once lost, gleamed with madness. He stared up the sky, cursed God, cursed himself, cursed the murder, cursed his family, everything, until all his mouth could utter were unintelligible sounds, moans, shrieks.

He trembled as he forced himself to stand up, trembled more as he looked down to the thrashing sea. He looked up to the sky once more, and when he didn't find his answer, jumped from the cliff and let the sea take him.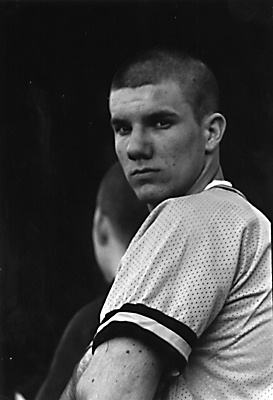 © Chris C., Milford, CT