Anger Breaker
June 28, 2011
I was in a bad mood, and the whole freaking world could know it. There wasn't a specific reason for the mood, it was just there. I suppose I was mad. Mad at the world. Mad at God. Mad at my whole damn situation.

The chill of the night air blew across my face. Flipping the leather of my collar up to my face, I let it block most of the wind as I walked. My older brother could have come with me, usually would've, but he knew not to bother me when I was like this. He just let me slam the door of the house with nothing but a book and my wallet, which I had hastily shoved into my pocket.

Despite its size, the house was suffocating. I had to get out; leave my brother and my uncle for the night. If I wasn't blinded by my bad mood, I probably would have taken my car and slept in it for a night. But I didn't—I just walked.

Down the road a little ways was a diner. People who lived in Carson City only went there; anybody else, tourists maybe, would have found it too seedy. It was actually a good place to sit and think, talk, eat, drink coffee…albeit a little dirty.

Neon lights advertising the name hung over the diner, seemingly floating in the darkness. I shook my head to try and free my face from some of the hair. Haphazardly, I pulled it into a ponytail. As an act of personal defiance, I had grown it out after it happened. He... my brother had once had long hair before my Uncle made him cut it—I wanted to look like him, at least a little. My Uncle didn't mind when he did it, but freaked when I decided to wear it long. Most people said that it made me look dangerous, the way I wore my hair in an elastic. It showed all the piercing on my ear, and cast a shadow across my face that made my eyes gleam. That's what they said, not me. I just cared about being able to see five feet in front of me.

Coming up to the diner, I pulled on the door. A bell jingled over the top, signaling my arrival. There were a good few other late night diners, apparently having the same need to be out as me. One looked up. We nodded respectfully to each other.

David, the owner, came out from the back while wiping his hands on a rag to see his new arrival. Seeing it was me, he raised his hand in greeting. I normally would have responded, but I didn't. He saw the book under my arm and didn't press his hello further. Whenever I needed to be alone, I came here and read. He knew that.

Settling myself in the booth, I nodded at David behind the counter. He knew that was his cue to give me coffee, and lots of it. I was tired, but I couldn't sleep yet. There was too much going in my mind.

Flipping my book open, not bothering to find the page but instead starting over, I unsuccessfully tried to concentrate on the pages. Every word, sentence, and paragraph blurred in front of me, supplying me with a nasty migraine. I hadn't remembered to put my contacts in this morning, and was so mad I forgot to grab my glasses.

Rubbing my temples, I set down the book and looked around. The bright floodlights only worsened the headache.

Aside from the other people sitting in window-side booths, there was only one girl sitting at the counter. She had a black skirt and red shirt, the diner's uniform colors. It flared out at the sleeves to let the air inside—In Nevada, loose shirts kept you cool… in the daytime. At night, the desert was cold and dry. She must have been freezing.

She turned to look at me, almost as if she sensed my gaze. Her long, milky chocolate hair flowed as she moved, and the floodlight behind her cast a halo against her face.

Embarrassedly, I turned my head and feigned interest in my book which I had thankfully left open. I heard her giggle, and push back her stool. The clunking on linoleum was quickly followed by the sound of pouring coffee.

I was still in a mood, although not as intense, it was still there. People knew not to talk to me when I was in this mood—my brother, my Uncle, David, people at school. So, when the white china coffee cup, filled to the brim with steaming brown liquid, slid towards me, I was startled when it was accompanied by a, "Hi," and the sound of a tiny body sliding into the plastic booth seat across from me.

Looking up, I felt the mood begin to subside.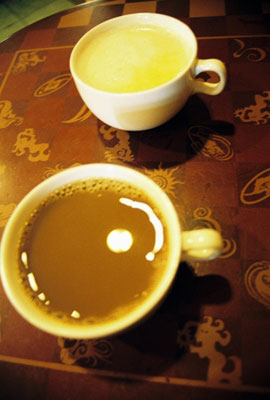 © Jaci S., Duluth, GA