New Meaning To Red
June 3, 2011
I hurried down the nice, front staircase. The gleaming wood shined under my bare feet and my Princess Pink finger name polish glowed. I stood on the bottom step, admiring my finger nail polish when the piano music flowed from somewhere in the house to my ears. I froze up and goose bumps rose on my skin so big I felt they would pop like enormous zits. I clutched the railing and concentrated on the music. It's mysterious melody and dark bass notes seemed so familiar. I had heard it somewhere before. I stepped off the step and turned to look down the hallway, where in incredulous music was spiraling from. I moved soundlessly towards the music room, the one I rarely enter. It had a piano, a big bay window, and a chase to sit on while listening to the piano player. The door was cracked a little and I pushed it lightly and it swung inward silently. I stuck my head in and watched as my brother sat next to Irena, his long time girlfriend. His finger's were flying over the keys. I forgot about his amazing talent of playing the piano. He was to obnoxious.

Suddenly, Irena's head whipped around to look at me and fear pulsed through me at the look she gave me. One of complete disgust and annoyance. I saw her long French tipped nails and I swallowed. Zack stopped playing and turned to look at me, too.

"What are you doing?" He asked standing up quickly and rushing towards me. He pushed me out of the room. Looking down at me he shook his head and mumbled under his breath.

"Leave us alone, ok?" He said slamming the door shut in my face. Zack had never acted like that to me. He was rude, yes, but not mean.

I stepped away from the door and hurried back to the front stairs. I was going to run up them, stomping the whole way since they were right above the music room, but I tripped. My hands, well, I don't know what my hands were doing, but I do know they were not cooperating. They didn't catch me and my head cracked against the step. I saw stars and stumbled dizzily up the steps. At the top I sat down, feeling sick. I reached up to where the pain was pulsating from and my hand was covered in warm, almost sticky, fluid. Bringing my hand down slowly, I started shaking as I looked at the incredible red color. Never had I seen such a red color. I stared at my hand and it stopped shaking. Red was my new favorite color.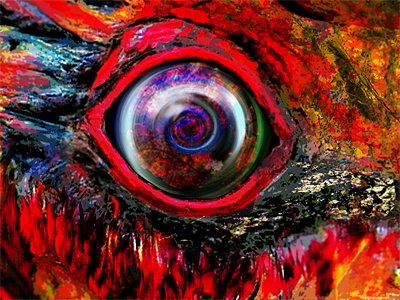 © Tom M., Philadelphia, PA