Mercedes Erikson
September 6, 2011
Chestnut brown hair and eyes the color of wet sand. That's Mercedes. Mercedes Erikson, 16, 5'5, and all smiles. She was the go-to-girl whenever you were upset. She would pat your back, get you some tissues, and say all the right things. Mercedes problem, though, was she had no go-to-girl, and she was probably the sadest girl of all. Let's start with her first day of sophomore year. The summer was rough on her, to many flings that she mistaked for the real thing.



"Mercedes!" Tessa pushed through the crowded commans and ran over to Mercedes, practically crushing her in a bear hug. Mercedes put on a gorgeous smile and hugged her back.

"I missed you all summer!" Tessa grinned at her. She had stayed at her dad's house all summer in Whitstone almost an hour away.

"I can't believe we didn't hang out once." Mercedes hoped her fake disappointment didn't show through.

"I know!" Tessa through her hands in the air dramatically, then spotted Roland, her crush for what has seemed like forever. She waved at Mercedes and disappeared in the ground in his direction. Mercedes checked the time on her phone and decided she would go chat with Keri-Ann, Ms. Thanh, her favorite teacher. She ducked down the south hall and made her way to the art room with out being caught by nosy teachers. You weren't suppose to be in the halls before 7:20, unless you were attending a detenion.

"Hey, Keri-Ann." Mercedes greeted her and dropped her bag on a table.

"Mercedes! I didn't think I would see you till 3rd hour. You have art then." Mercedes nodded. She already knew her schedule backwards and forwards. "How was your summer?"

Mercedes shrugged, not wanting to lie about it, but not wanting to talk about it much.

"Pretty hot this year, huh?" Ms. Thanh stacked down sketch paper up on the small table in front of her desk.

"Yeah." Mercedes suddenly felt sick. She wanted to leave. To hide somewhere dark and not let anyone see her. "I'll see you later, I actually forgot I have to do something before the bell rings." Mercedes sped out of the classroom, leaving Ms. Thanh to wonder what her problem was.



The day passed slowly, all the teachers reading class rules and procedures. Mercedes avoided most people, not wanting to talk and laugh about mindless things. She didn't talk to Tessa the rest of the day, or Ronnie, her best guy friend. At the end of the day, Mercedes shoved anything she thought she might need into her bag and shut her locked carefully, instead of the full fledged slamming like her classmates. She hurried down the hall, towards the double doors that let the sunlight filter in. She almost made it before and strong hand landed on her shoulder and spun her around.

"Ronnie, what?" She looked up into his face.

"You haven't talked to me all day! You didn't even sit by in the classes we have together." His face was scrunched in confusion, and maybe a little bit of hurt.

"I'm sorry. I have just been a little out of it lately." Mercedes scratched her head mindlessly and glanced behind her and the now propped open doors. It seemed like they were calling to her.

"Snap into, please." He added, and gave her a crooked grin she had once told him she loved. She looked down at her feet, then back at the doors.

"I gotta go." She pointed at the door's over her shoulder and he just nodded. He gave her a quick hug and then was gone in the opposite direction. She used to feel a twinge of sadness at this moment, when they seperated, but now she only felt relief. She wanted to get out of the dreaded high school.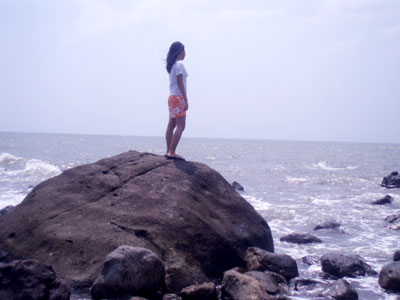 © Grace L., Bacolod City, Philippines