The Veil
February 6, 2012
The apartment was on the last floor of the complex, crowned with a terrace giving way to a stunning view of the Mediterranean. Its glass bay windows remained permanently open, shattered here and there, glazed over with dust from years of neglect. Every object in that tiny space had once had a purpose, but after years of solitude, the little apartment began to allow its embellishments to deteriorate.
The only sign of beauty in that somber apartment was a translucent curtain, gracefully billowing in the wind, adorning the windows. The wind blew life into that overlooked piece of cloth like it blows life into the sails of a ship. Through the pure fabric, the setting sun on the bay of Cannes could be discerned.
Sometimes the curtain would drift out into the open sky and away from the apartment, reflecting the pearly hues of the water; others the drape would pick up the shades of the orange sky, making it seem like a dancing flame.
The curtain floated freely through the air around it, unconcerned about the world around it. With a sudden gust of wind, the shroud veered to the left and dislodged a dusty vase from its shelf, shattering as it hit the marble tile. The first violent sound the nook had heard in years. Yet the curtain continued to dance in the wind, mirroring colors of the ocean and sky into the sad apartment.
True beauty resides in the unexpected aspects of life. When everything around it is decaying, beauty finds a way of shining in through the most common objects, all you have to do is look around your world to see it. Don't be the one to tie the curtain down and repress its beauty, be the one who dances in the wind with it.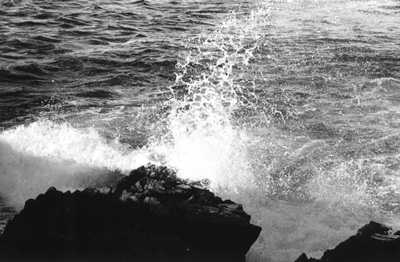 © Shira B., Marblehead, MA