pretty face
April 2, 2012
In the mirror, I could stare forever at my pretty face.
Now I can see when the bruises fade away, I know when they turn yellow they are ugliest, as if I have a disease. I know when my fingers creak like rusty door hinges, and brittle skin flutters like torn shreds of newspaper. I feel it when a penny can split a toenail in half, and once luscious blond hair that shone like sunflower petals, crumbles like dead autumn leaves.
Years took my pretty face and wiped it clean. Mopped the stains off the mirror; blemishes of rogue and blue stardust eye shadow; wiped away the spider-webbed smears of mascara that had run down the bleached- white desk. A long time ago, there used to be lipstick in the tubes, but now there's only tarnished copper. You can throw away all those rings in the bluebird jar, the ones with rusted jewels that could have once made queens purr. And you can blow out every candle that used to glimmer, and hush me to sleep when my eyes couldn't close, replaying who wore top hats and tail coats and beautiful dresses. All those pill bottles are empty now, full of dust, they litter the wooden floor, which used to creak and weep and shadow the roaring spectators outside, who always wanted an encore. And if you pull back the velvet, moth-bitten curtain, you'll find the portrait a wise old master painted of my pretty face.
In the corner of the room, there was a hole in the wall where a little brown mouse once lived. My ruby tap shoes once sat there, and I can still hear the clickety-clack upon the stage and I begin to live again, until the train rumbles by outside my window, breathing black smoke against my blurred vision, against mottled eyes and dry mouth. My Polaroid sleeps in a drawer now along with old show tickets, and I haven't heard its click and wind in so long, because no one wants my picture now.
Every light bulb popped on my vanity, and burst into flecks of fire. Cracks in the mirror splintered my pretty face. And the teeth began to fall out and I began to droop like sagging ivy vines that grew and smothered the theater. I can't read the diaries, every detailed image or memory is lost to me. And the music, that's gone too.
Time has been cruel to me. My voice throttles like a revved engine, when it used to ring like a mockingbird. My joints pop like firecrackers, once limber enough to dance like grace dawned upon Earth's nimble children.
She is pretty now. I created her; I made her oceanic waves, the color of chocolate. I breathed blue ice into her eyes, rounded her cheeks and dotted her beauty mark. I gave her quick feet and sure hands. It's as if she were a thief.
She wouldn't know of the theater. I can talk about it, but no one will ever know. No one can feel cobbled road underneath their feet, or watch flaxen horses gallop through Paris rain through my eyes. Never smell the ladies perfume or feel my heart beat like a caged lioness paws against the bars before show time. It was too long ago; the spotlights and glitter and booming voices and stares. I want to lie across the gleaming piano again and when I look down, I want to see my pretty face in the black reflection.
But that was a very long time ago.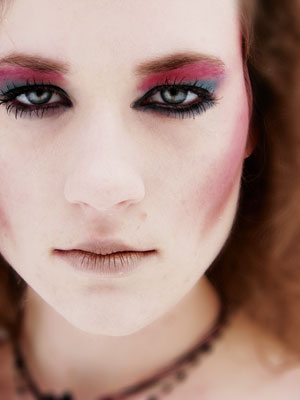 © Elizabeth H., San Bernardino, CA