My Mother's Arms
May 8, 2012
I woke up in my Mommy's arms; she smiled at my tiny face. She rocked me to sleep on a wooden rocking chair. I saw the name 'Jasper' on my blanket, so I guessed it was my name. She fed me a bottle of warm milk while telling stories of lions, warriors, and princesses. She whispered into my ear, saying I'll be big and strong like the warriors in her stories. With that amusing story, I fell asleep.



I took my first steps out on the green lawn. Daddy clapped his hands to me; telling me to come to him. He and Mommy anxiously waited for me on the other side of the lawn. I slowly stood up, stretched out one foot, then the next, and the next; step by step. I was almost there when I landed straight onto my bum - hard. I started crying and bawling for Mommy. She quickly came to my rescue and took me in her arms, patting my bum, murmuring, "Shhhh, everything's all right Jasper, stop crying now." She sang me a relaxing lullaby and I took a long nap in her soft arms.


It was my first day of kindergarten and I felt like going back home. My Mommy sent me to school, but I was nervous. Many eager kids lined up at the door, but I was afraid to go near it. I saw my Mommy from the car. She came up to me and gave me a warm hug in her arms and a kiss on the head.
"Don't worry Jasper," she said brightly, "you'll make a lot of new friends at the school and your teacher will take good care of you 'kay?
I hesitated, but nodded my head. The bell rung and I made my way into the line of kids. I looked back and saw my Mommy wave goodbye and gave me an encouraging smile. Just then, a girl named Elizabeth said hi to me. Maybe school life wasn't so bad after all.


My IPod was on max volume. I listened to some Drake and Linkin park tunes to calm me down. High school was freaking hard and I started growing hair in places I didn't think were possible. I was just another troublemaker who always skipped class.
I fought with Dad a lot nowadays. I didn't know why, but we weren't that close anymore. We just didn't seem to get along that well and we argue every day. My mom cried every night we fought – when everyone was sleeping. One night, I found her sobbing on the sofa. Her eyes were bloodshot red, but she still managed to show that kind smile of hers. She put me in her arms like she did when I was a baby.
"Please don't blame your Father Jasper. It wasn't his fault. Just try to get along with him okay?"
I thought about it. "Okay."



I was standing in a church, facing a multi colored mirror shining in the distance. I wore a crisp and clean black tuxedo, a white rose pinned onto my left chest, and my hair gelled back. Many people sat in their seats, wearing polished suits and dresses. I saw my Mom and Dad, snapping photos of me in my tux, and avidly waiting for my big day.

The church door creaked and the crowd turned their attention to a woman in an elegant white dress. The organ started playing as a parade of flower girls and maids flocked her down the grand church aisle. Her face was hidden behind a white veil and a few maids behind her helped carry her dress.

The organ music stopped as the pastor made his way to the altar. I faced the young woman and lifted her veil. Her bright green eyes met mine. She exchanged her vows and I was next.

"Jasper. Do you take Elizabeth as your lawfully wedded wife?" the pastor asked.

"I do," I answered.

"Then you may kiss the bride."

I kissed her and the audience erupted into a wave of claps. I took Elizabeth's hand and walked down the aisle with her. We stepped outside on the front foyer, where everyone gathered for a wedding picture. My Mom, now with wrinkles and grey hair, sent me off with a hug of luck in her small arms. It was the happiest day of my life.



I quickly ran through the pouring rain. Water fell onto my balding head. I entered her house. Mother had failing health issues. I trudged up the wooden staircase and ran to her room.
My Mother lay calmly on her soft bed. The drug bottles, pain killers, and prescriptions littered on the floor indicated she had taken her medicine. Her face was tired and weary. It's been 20 long years since the wedding and she was dying. I knelt beside her; she touched my face.

She whispers, "my oh my, how much have you grown." She puts me in her arms and rubs my head. "Jasper…" She paused. She wanted to say something but didn't have the strength. Her eyes closed shut and her body turned cold.
I called an ambulance, but she had lost her pulse by then. I rested my head on her warm arms. Tears fell down my cheek, on a cold, rainy night.



I went back home, devastated about Mother's passing. I remembered the good times we used to make. It was so long ago, I couldn't remember myself. I went upstairs, Elizabeth was in bed. I decided to take a peek into the nursery, where my baby girl slept soundly in her cradle.

I took her into my arms and kissed her forehead. She was warm like my Mother. I rocked her on a small wooden chair, the wind echoed into the night. I wrapped her in my arms, like my mother did so many years ago.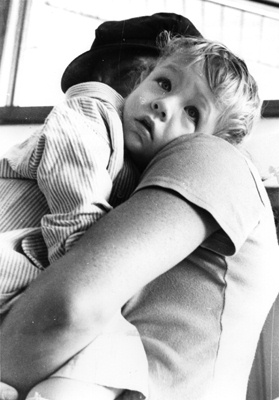 © Ali D., Cincinatti, OH