Scratch: Chapter One
May 16, 2012
The smell of fresh baked goods was in the air, along with sweet floral smell of jasmine and lavender. The breeze was enough to keep one cool without making goose bumps pop up all over the skin. The sun was as beautiful as ever hanging high in the sky. The people surrounding me are as sweet as the candy shop on the corner of the street. The ground is grass, soft to walk on, for no cars drive down these roads. I look down the street and see the beach as gentle waves consistently tumble in. An upbeat jazz number is playing in the pub around the corner, and as people walk they cannot help but bounce to the jolly tune. This is a place of perfection, of freedom. It is the place where a person is no longer held down by their human form. No longer must one face pain, discomfort, or cruelty. This place is my heaven.
I would love to say that I like it better here; there are true advantages to no longer having to deal with the everyday things that the living deal with. For example I don't turn into a hormonal fireball of a teenager once a month any more, I don't have to see ugly little blemishes pop up along my face or see my body grow old saggy and fat with time. I was granted an eternity of yummy years. Yet when I passed away I would definitely not call it yummy years. My skin had clung to muscle lacking bones, my eyes were over purple bags, and my hair was absent. Luckily I had the choice of being able to become what I wanted when I arrived, I mean it is my heaven after all. But amidst all this perfection I see a very large imperfection. I am alone. When I left my weak body behind, I left another as well. With his health I knew he would not be here anytime soon, and would probably move on falling in love with another. All the while I get to sit in my perfect little heaven, smelling the roses and eating as many tubs of ice cream as I wanted. I never had to worry about putting on weight here, which was another perk of being dead.
If I started telling my story from this point of my life (or shall I say, lack of life) the reader would grow bored. For perfection has the ability to get boring fast. So why not start the story from the beginning, when I was close to perfection. Even though you already know the ending, I hope that you understand there is more to the story other then how it ends: unless you are the type of person who just reads the beginning and the end of the books. If you are as a fellow student I prefer spark notes, you get the idea of it without missing important milestones.
Born on the 18th of February I had a full crop of black hair, bright blue eyes and pale skin. My mum would always tell me that I was a healthy baby and a good pregnancy, she always had a look of remorse with those words, like she wished that I could have just stayed in that point of life. Dad always laughed when he told me about my childhood. He spoke of how I was a fireball of a child and he could hardly keep me from crawling on to the counters and to where our knives were hidden. I unfortunately couldn't remember much of my childhood due to some of the treatments I had to go through. The clearest memory I had was from when I was about eight years old.
We had gone to the beach before my treatment was supposed to begin, I remember being scared of the big hospital, and being extremely confused with what was going on. Mum and dad both seemed very sad at the time, and would consistently talk in hushed tones so my brother and I could not hear them. Instead I lay in my flower bathing suit and floppy hat soaking up the sun rays as I listened to the soothing waves on the beach. That was the moment that the beach became my secret oasis. While I was going into my treatments on the bad days where I began to get sick or grew tired I would always imagine that beach. The warmth on my arms stomach and legs, the rough sand beneath me, the gentle breeze and the sweet scent of the sea blowing in alongside it. As I let my imagination pull me along, the hospital monitors beep turns into the subtle waves crashing into the sea shore. The prickly discomfort I normally felt transformed in to the rough grains of sand that I laid on. The nausea subsided, the aches and pains subsided, and I was at peace once again: No longer fearful, no longer hurting.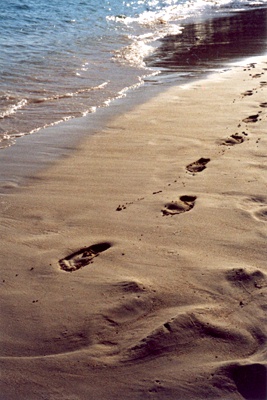 © Ashley B., Potomac, MD