A Slight Inconvenience
September 5, 2012
I don't think I realize anything's wrong with me until I find I can't get out of bed in the morning. I can't swing my legs around to the edge of my bunk and jump down; I can't roll over and hope to fall (relatively) painlessly to the floor on my back; I can't even move an inch.

Well, my legs, at least.

My hands fumble around under my covers until I grip under my knees. With much pain and effort I manage to pull my legs around to the edge of my bed, but balancing on them is a bust, for they melt down under my weight like liquid Jello and I find myself on the floor on my face. Not relatively painless.

I breathe as quietly and slowly as I can. I feel along the edge of my bed for the post so I can maybe hoist myself up, but I lean too far and slide to the ground once more.

If I had a chance to tell my mom, she would probably say "it's just one of those days." Not that she should talk. She doesn't know how hard it is to be blind, to have the world's eyes on you as if you not being able to see them makes it any better. Now it's doubly bad because I rely on locomotion to make up for lack of sight, and having at least brief sight would make this the smallest, tiniest bit better.

I wasn't always blind, and that's why I can disregard my mom's words and wish pointlessly for my prior gift at this moment. I remember having sight, I was told there was a major accident that involved fire and glass – probably a car wreck – and now all I know is the world of darkness. Darkness is sometimes associated with Satan, which may also account for why people give me a wide girth in passing. How would I know this, you may ask?

It's not rocket science. I hear them talk about me.

"Such an unfortunate twist on a handsome lad," they sometimes say, or, "It really is a shame God did this to you." What do they know? More importantly – what do they care? I'm just another object of speculation among their throngs, just another topic of gossip among their cliques. I didn't used to have a seeing-eye dog, only a cane, which may be another reason why they gasped slightly when I walked by. Possibly they're disturbed to high degrees when they find I can look them straight in the eye based on where I hear their voice coming from, or how I can direct my eyes in the location of a distant observer who has made their presence known with an obscene or inappropriate comment about my sightlessness.

It's not rocket science.

Then again, they probably wouldn't be able to imagine how simple it is to go about life once you get used to using the other four senses your God has given you. Why do we have ears or noses or hands if we're not able to use them in times of need? Well, I take it back. Sense of smell is pretty useless in blindness unless you encounter a fire or something, and taste – well, taste is for food, which doesn't help in navigating.

Obviously taste doesn't help me now, unless tasting the thick fringe of the rug is somehow essential to me getting anywhere. Well, tasting it doesn't exactly help, but knowing where it is helps me to determine that I'm near the front of my room, a ways away from the door, which leads directly onto the stairs.

I can't drag myself without much time and pain, so instead I call out, "Mom!" and hope I'll get some response.

"Do you need any help getting down the stairs, Meka?" I hear her reply.

How does she know? It's more fun to think when you can't see – the words write themselves in white on the black field of your vision, drawing swirls and pictures within the visionary plane.

"You probably don't remember falling down the stairs last night? You hurt your ankle, so we bandaged up your foot."

"How come my whole leg-" But I stop and feel the blood flowing down my legs and I hear the wet snuffling of my new seeing-eye dog Jax's nose at my eyebrow, and I know what happened.

"You sneaky dog," I scold gently, brushing my finger along his fur. I feel his ridges and bumps, determining my way up to his face to pet his ear. Jax only pants softly and walks restively around in a circle before stopping to offer me assistance again.

"I'm fine, Mom," I say when I hear the wood soles of her slippers click their way up the stairs, briefly diverting Jax's precious attention. "My legs are fine now. Jax'll help me down."

I can sense she still has that worried frown spread out across her face. "Okay, Meka," she laments finally. "Breakfast is on the table." Her feet pitter down the stairs and around through the hall as she leaves. I sign Jax for assistance and he noses himself under my arm, and I regain my footing right at the banister. Following the quiet clink of Jax's dog tags, I reach the top of the stairwell and start down.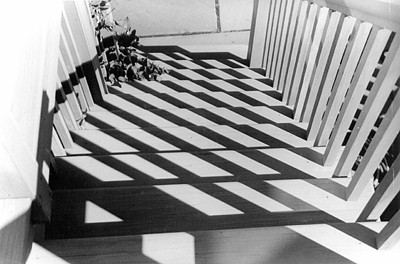 © Amy S., Marblehead, MA