Joanna
September 12, 2012
A buttercup reminds me of your hair, soft, and yellow as a guinea. Your eyes, so lively; chartreuse and brilliant. Ivory skin, like cream. Beautiful, Joanna.
Joanna, Joanna, it was mid-afternoon but we were going to have blueberry pancakes. 'They're good for your eyes,' you said. But there was no syrup. Let's take a drive, you said.
I can still see the black, paved road, hot as the sun. It burns the little dog's paws as it crosses, its alabaster coat speckled with dirt. It's halfway across and you, you had the radio turned up loud. I can't remember what was playing. For the life of me, I can't remember what was playing.
The mutt freezes in shock, entranced by the shiny, fast moving torpedo we drive. But you swerve; a reflex. And then we're flying. 'We've sprouted wings, Joanna,' I want to tell you, but when I look at you, you're screaming. We're soaring through the air like, like a rocket ship on its way to the moon.
We hit an Oak; our heads are through the windshield. Glass in my teeth. I taste blood, flowing from my lips. You weren't wearing your seatbelt. Why?
I see Joanna, Joanna. A kiss, a laugh, a touch. I smell the Earth's dirt up my nose and sunshine streams through spider-webbed fractured glass. "Why did this happen to us?" I ask the trees. And the trees say nothing just sway their arms in the breeze and I imagine they're saying, "how should we know?"
But we're alive, Joanna, alive. Your cell phone is ringing and I cry out, trapped under metal. Your eyes were translucent, but they've deepened in color now. Your body is crumpled into the dashboard, your chest is heaving.
As the smashed engine starts to whine and cough out black smoke, you murmur something, but I can't hear you. I can't hear you Joanna.
Please, I think. Don't go, I think.
But I look at you Joanna, and I see no sage in your eyes, no peach in your skin, no gold shine in your hair, no scarlet in your cheeks.
I ask the trees why you had to die, Joanna, but they only shake their arms and say, "how should we know?"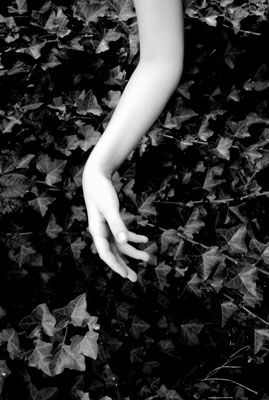 © Sarah M., Blairsville, PA