Someone
January 2, 2013
In third grade I wrote a letter to Santa asking why my friend Janie only received one gift on Christmas when I had gotten (I counted) seventeen. I was wondering if he could lend one of my presents to Janie next year, and by the way thanks for the My Little Pony.
When my uncle died two years later, I wrote a letter to God asking Him to bring Uncle Johnny back; he was a good man and we always had tickle fights. I guess God and Santa were too busy to respond.

In my seventh grade history class I wrote a letter to George Bush detailing my concerns about the government and society and a proposition for improvement. I wrote about how my best friend had stolen my boyfriend, and noted that perhaps if people were a little more considerate we would all be happier. That was the only letter on which I ever received a grade. I got a C. Bush never answered, either.

When my father left, things changed, and I began writing letters every night. These letters were never graded - no one ever read them but me – and they were all written to my dad. As I wrote, I would ask where he was and when he was returning and if he was returning and why he left me and mom. I wrote the letters in my journal and labeled them "To Dad" but when I lost hope for his homecoming that label evolved into "To Anyone."

Anyone. I was searching for Anyone. I wrote about how it felt to be left behind, to have no one to listen, no one to call or smile with. When she noticed my new writing fixation, my mother bought me a beautiful journal, leather-bound with pages that easily ripped out. Thus, I began tearing out my letters and sending them away with the wind, venturing outside after every writing expenditure. I journaled at school, at the park, and let my letters go in all different towns, cities, and states, hoping that Anyone would find them.

Then, the day before my seventeenth birthday I wandered upon a coffee shop downtown, equipped like a Starbucks but much less overrated. I sat down on a burgundy couch with my leather friend and let the words fly, to Anyone. I didn't look up when the bell on the wooden door rang but my pen froze when a dark haired boy sat next to me and asked, "What are you writing, Delilah?"
The boy. I knew his face. Geometry, freshman year.
"A letter," I mumbled, but I couldn't remember his name and I was embarrassed.
"To?"

His eyes were genuine and he remembered me. At that moment, his name didn't matter. My shield fell and my pen died and it was just me and him. Me and the boy who found my letters.
"They're to you," I said, handing him the journal, open to a page that would remain intact forever, for Someone.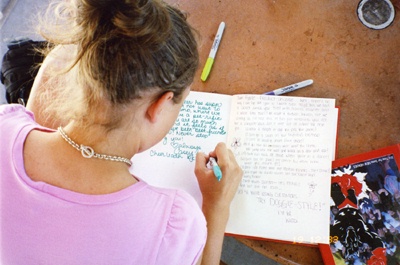 © Jessica S. Pheonix, A