One Rose I'll Stay, Two and I'll Leave
February 24, 2013
Emilia had never known the meaning of bittersweet. Not until the day she saw her husband coming up the front steps of her little country house, whistling happily and giving his hat a little tip as he walked by. Mr. and Mrs. Harold Bouchard had been married for 52 years before Harold had passed away, and in the three years since his death Emilia hadn't once seen his ghost. Until that morning, that is.
"Harold!" Emilia scolded. "You ought not to be here." The little woman, hunched over her battered cane, shook a bony finger slowly and deliberately.
"Emilia!" Harold opened his arms wide, a grin spreading over his wrinkled face. "How've you been? Where are you going off to, anyway?"
"To get my mail. You know my knitting magazine comes on Thursdays."
His deep-set eyes twinkling, Harold sat on one of the porch rockers. "You haven't changed a bit, my dearest Emilia." He leaned forward. "Do you remember Boston?"
"Boston?" Emilia shuffled backwards with a groan, settling into the rocker next to her husband. "Of all the adventures we had, we never made it to Boston."
"No, my dear. 'One if by land, two if by sea,'" he recited.
'"One rose I'll stay, two and I'll leave,'" Emilia chimed in, their whispery voices intertwining. "Yes, I remember. I'd leave a rose in the window of my old farmhouse if my father was out on the farm." She closed her eyes, her fragile mind carrying her to memories of her childhood. "If my father was at the house, I'd leave two roses."
"Then I'd leave as quick as I could," Harold chuckled. "Your father, he hated me, Emilia. He hated me." Harold placed an ethereal hand on Emilia's knee, wishing he could hold her as before.
"So did my mother. So did everyone in that town."
"My old man didn't even talk to me at my mother's funeral." Closing his eyes, too, Harold sighed. "They called us crazy, didn't they?"
Emilia nodded, her snowy-white hair bobbing up and down. "It was years before I could talk to anyone in my family." She wiped a tear away with a sad smile. "My mother screamed at me when she found out we were getting married. My father would've beat me if we hadn't left."
"I wore my best blue jeans, the only pair I had without holes," Harold smiled, his deep laugh lines crinkling at the memory of their wedding, "and you wore your best dress. It was the pink one with the roses."
"And my only pair of high heels. We stopped at the first church we came to, once we were across the state line." Emilia turned to face her deceased husband, her voice cracking in aged grief. "Harold, you have to leave. I love you, Harold, but you can't stay."
He stood, his movements fluid with a grace Emilia hadn't seen in twenty years. "I love you, darling. I want to stay."
"You're a ghost, Harold." Leaning heavily on her worn cane, Emilia stood to face her husband. "You have to move on. I don't want you to go, but you have to."
"There's always something keeping us apart." Harold sighed. "I know you bring roses to my grave each Sunday after church. You know what to do this week."
"I know, Harold."
His soft form faded into the wind. On the warm summer breeze, Emilia could hear her husband's whispers.
One if by land, two if by sea. One rose I'll stay, two and I'll leave.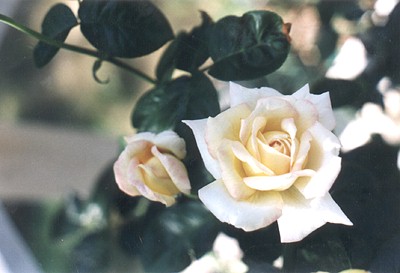 © Jacqueline S., Hanover, MA