The Push Up
April 12, 2013
Discrimination is not like it used to be. People do not publicly call you names or harass you relentlessly and yet people do not welcome you with open arms. It's subtle until you're old enough to see it, and although you don't fully understand it at first, it's like opening your eyes after years in the dark... blinding and painful.

I know when I walk by, my hair thick and my face dark and intimidating, they judge me. A person doesn't need to call me a n***** out loud, for me to know how they perceive me. From the way their eyes bore into my every move, and the way they fidget around as I pass by, I know they are thinking it.
I suppose the moment I opened my eyes to discrimination, was on a heated stereotypical summer day. My mother wasn't home, now don't jump to conclusions, this wasn't because she was a crack head, but because she was attending a local college. My sitter, who was sixteen at the time, was kind enough to take me for a walk down the street for ice cream that evening. I remember running to my bedside draw so full of joy, and reaching for the $10 bill I had received from my mother as a reward for an A on my spelling test. At six years old the world seemed simple, but from the moment Latoya and I entered the store things changed.

"Aisha." My oversized yet sweet sitter called out. "Don't you run off like that!"
I returned to her side and stuck to her like glue as we made our way to the back of the store where the refrigerator was. I didn't notice the man at the counter, staring at our every move, nor did I notice the woman watching my sitter, her eyes wide and her hand clenching her purse. When she swiftly walked out, I didn't look twice.

"Now which one you want?" Latoya questioned.

"The Push Up!" I exclaimed.
But as I grabbed for the ice cream in the fridge the man behind the counter approached us. His face didn't seem angry, more scared than anything as he turned Latoya by her arm violently. And yet, she didn't respond in a hostile manner.

"I think it would be best if you and your daughter left my shop. It's bad for business; I can't have you in here." The man announced.
I left the shop without my ice cream that day. The Push Up I was so very excited for was replaced with confusion. I couldn't understand why my sitter and I had to leave. But I saw it, and soon it was all I could see. The man didn't call us names or hurt us, his discrimination was subtle, and he truly thought he was superior. Getting kicked out of the shop was an awakening that society looked down on me because of my race, and that it was accepted by society.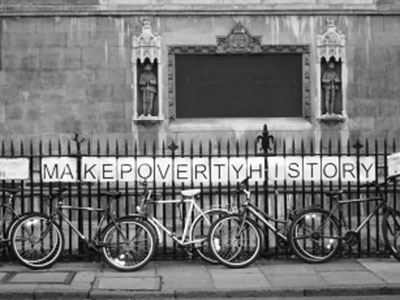 © Katherine S., Agoura Hills, CA