Hands
MAG
May 15, 2013
The model rings the bell of my studio at 9 o'clock promptly. She must have been impressed by my name and wanted to make a good impression. I myself do not judge people for their adherence to a clicking piece of metal covered in glass, but I had just finished my coffee and put on my smock, so it was as good a time for her to come as any.

"Come in," I call and hear the twitch of metal as the door opens.

"Hello?" I recognize her voice from that day at the train station when I stopped her after watching her digits delicately punching in directions to buy a ticket.

"Come in," I repeat.

She tentatively enters, her feet scraping the hardwood floor. I see her gaping at my canvases – long stretches of color across the decaying wooden walls. These are my creations, my children, my hate and my joy.

In long oily streaks and thick charcoal clouds, hands dance everywhere across the canvas. Some are dry and tight and long. Others are short and plump. Some have long, lacquered nails and others short, bitten ones. But they are all fascinating to me – the fingers especially.

The model sniffles a bit, and looks for instruction.

I seem to have forgotten her name, but perhaps I never knew it. Not that it matters. She has not come here to be friends. She has come because I must worship her hands.

Her face is plain and rather chalky where it's not scarred with acne. She has badly colored hair pulled into a dry knot on the top of her head. Her clothes are drab, and she has a muffin top peeking out from under her sweater. But none of that matters.

I think there is a moment when every child discovers the magic of their hands. You see small children holding their fingers up to their eyes as if they have discovered a jewel of unsurpassed brilliance. For a few brief moments, a child's mind is consumed by the beauty of their well-proportioned fingers, by the way they can flex them and form a tiny fist upon command. Little children are often very wise. Sadly, this wisdom is forgotten as they grow.

"Please sit down," I say, gesturing to a chair.

She sits and smiles nervously."What do I do now?"

I stand back a bit and survey her.

"Could you hold your hands out like – like you were in the train station?" I try to articulate the statuesque beauty I had encountered in her rapid, bird-like ­fingers.

She awkwardly moves her hands about, but they are not flying, not soaring.

I sigh and she looks hurt, as if she knows she has disappointed me.

"What do you do for a living?"

She shakes her head. "I … I just stay at home with my kids."

This excites me.

"No wonder your hands are so … You must do lots of things with them."

She laughs a little. "I guess so. I hold my babies, and cook and clean and stuff."

"Better and better."

I sit down behind the easel.

"Well, why don't you just imagine you're washing dishes." She moves her hands a little "Yes! Perfect!" I exclaim. "Just stop right there."

She holds the position, her hands shaking a bit. It's so beautiful, the way her fingers run into each other, like smooth hinged doors.

Quickly, afraid that I will lose this moment, I pick up a pencil. It tastes familiarly of lead and dust in my mouth.

"Just stay like that," I mutter around the pencil.

I begin to draw, sketching her beautiful hands. It is almost as if I can see through her brittle skin and into the long white bones that form the fingers, the joints. As I scrape the pencil on the paper, the hands become more real, more beautiful than they actually are.

I am lost in reverie as I gently shade the knuckles, the wrist.

Finally, exhausted, I drop the ­pencil.

"That was good. Very good. Thank you."

She smiles, relieved. "Can I see?"

"Of course."

She comes around to my side of the easel, and I see expectation in her face. For a moment, she stares at my picture and then her face falls.

"But they look so … so ordinary."

Her words take me aback. I have just finished drawing perhaps one of the greatest miracles of nature, the epitome of shape and form. And she can see nothing of what I see.

"They are not ordinary to me," I finally say. "Thank you very much for allowing me to draw them."

She smiles, almost condescendingly. I can see she is disappointed.

She gets up, picks up her purse, puts on her coat and is gone.

I am left with a piece of paper. It still glows, so lifelike. I imagine the hands flexing gently across the paper, fingers tapping, wrist snapping side to side.

A nurse opens my studio door. "Nice work, Gerald," she says in her fake, cheerful voice.

I allow her to help me out of the smock – her fingers flying effortlessly – and then follow her as she turns the door knob. I leave the room of hands, reduced once more to a man who cannot care for himself. A man who has no fingers and no wrists.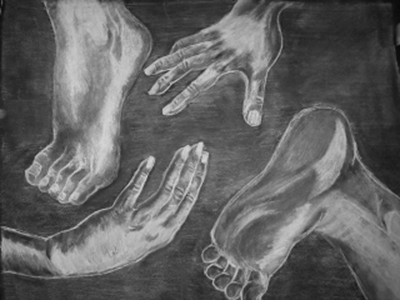 © Rachel U., Danbury, CT