On Her Own
May 21, 2013
The street stretched away from where she stood, looking at the stars above her. She sat back down on the roof of the old worn out, rusted bus, and laid back. The metal was cool on her arms and legs, and a sudden burst of goosebumps spread across her skin. She shivered then closed her eyes.
"Why did you let me go. Mom?"
She silently sobbed as she tried so hard not to think about what was bothering her, but it seemed to make it worse. She wiped her tears with her dirty sleeve and stood back up to glare at the stars. Her eyes twinkled once more as she took a deep breath. Choking back another tear, she saw one giant bright star that out-shone the others in the sky. It was beautiful, admirable, amazing. Even if it was by itself.
She pulled her arm up to the sky and pointed, "I'm going to be like you one day."
The sun starts to rise, and the stars start to disappear. Jess hops off of the creaky old bus and makes her way into town. She turns a corner, and glances at what the noise was to her left. She sees a little, blond boy riding in a green John Deere tractor, that was just perfect for his size. His parents were watching him, cheering him on, as he laughs and went faster in his little car. The little boy looks just like his father. Just then, Jess sighs and continues walking down the road, wondering if she looks anything like her mother, but she'll never find that out.
While she was continuing her walk, she could see one of the foster homes she used to live in. A big walkway in the middle, each giant square had divots and holes in it. One big tree was to the right of the home, and it had to be about 50 feet tall now. She remembers sitting on that yellow wooden swing, hanging from the limb, writing letters to her parents that she never sent. That tree was her life, the only thing that kept her going through all that was going on. Jess turns and smiles as she starts walking up the dirty pathway, and heads towards the direction of the tree. When she got there, she grips the ropes with the swing on it, and sat down, remembering her childhood here.
"Where could they have gone?" he asked aloud, "They were just here." Dad turned towards mom.
Taylor sighed and said, "Dillion and Alex are off sitting in the sandpit," she pointed to Jess, "And you always know where little Jess is. John, you have nothing to worry about." John laughed and walked outside where Jess was.
"What are you doing, Hun?" he asked as he looked down at Jess.
"Just writing, daddy." John squatted down to get a closer look, but then Jess covered her paper with a little hand.
"To who?" Just then, Jess looked up at her father, her bright brown eyes filling with twinkles.
She wiped her face with her little arm and said, "Someone who I want to meet one day."
Jess returned to writing her letter with a smile on her face. Once daddy left, Jess looked through her folder to find her other letters. She had so many that she wanted to send to her mother.... would she ever get them?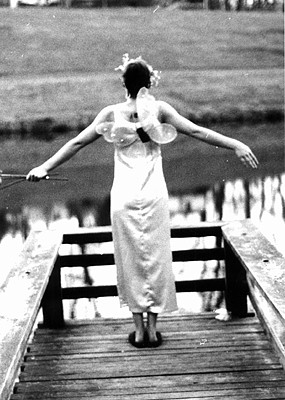 © Jessica T., Cincinatti, OH