The Urn
May 24, 2013
Aunt Sylvia never liked the urn. She called it all manner of things; ugly, obnoxious, outdated, foul. It was her nemesis, her adversary, an object on which she could take out every scrap of fury she stored in her crooked heart. But she wouldn't give it away.
Sylvia died 288 days ago. She was ninety-two. I cried. She laid there. And the rest of the family forced grief-stricken exteriors for courtesy's sake.
"Coronary blockage," said the doctors.
"She's with God," said my mother.
"Now we can get rid of that goddamn vase," said my Uncle Tim.
"She's dead," I murmured, but no one was listening.
I counted twenty bouquets of flowers at her house, and one bouquet of scraggly weeds that someone had shoved to the back. I placed that bouquet front and center where nobody could miss it, because frankly, it was the most Aunt Sylvia. Her house was petite, only one floor, and every room was rife with the scent of gardenias and lilies wilting. It the loneliest smell in the world.
My Aunt Sylvia did not want a funeral. She did not want a burial. But aside from these two stipulations, she never mentioned what she would like to have done with her body, post-mortem.
So we cremated her.
Two weeks later, we got her in the mail, a gray brick of human-dust that fit nicely in one's palm. I tried to point out this pleasing geometric dimension, but my mother told me off for being a disrespectful teenage hooligan.
"Aunt Sylvia was a disrespectful geriatric hooligan," I replied.
"Shut up," said my Uncle Tim, and I did.
Sylvia hated the urn with her heart and soul. She peppered it with verbose insults each time I visited, pulling me onto her lap so we could shout at it together. She despised it, obsessed over it, and cursed so fiercely at it that I wondered if it had done her some great personal wrong. But then I was only three and didn't understand metaphor.
"We'll put her in the urn," said my mother.
"She hated it," I reminded her.
"It was a part of Sylvia," my mother replied.
Uncle Tim kicked the wall.
We took the kitchen scissors from the dishwasher and cut awkwardly into the clear plastic bag encasing my aunt. I poured her into the urn, holding my breath for fear I should inhale her. She went in easily, no trouble at all. We all started at the slight dust cloud hovering above the urn, but no one would wave it away. Too uncomfortable, too bizarre, too sad.
"Where should put it?" I asked, looking at the urn.
"Where should we put her," my mother corrected.
I waited.
"Let's just put her on mantle," suggested Uncle Tim.
We did.
For a few months, the urn went noticed (visitors would speak to it and cry over it), then unnoticed, as personal duties called us back to our everyday lives. In fact, it took me three days to notice that the urn had gone missing.
"Aunt Sylvia's gone," I told my mother.
She shrieked and called Uncle Tim, who called his girlfriend, Janette. We waited on tenterhooks for a few hours. We paced. We ate stale cookies.
Uncle Tim called back. "She's at the Salvation Army," he grunted over speakerphone.
"She's where!?" asked my mother. Her jugular vein throbbed.
"Janette was doing her annual consignment donation thingy. She didn't know."
"Oh dear God!" cried my mother, who never said the lord's name in vain.
I grabbed the car keys.
"If someone decides to buy that urn before we get there, I swear to god I will track them down and I will strangle them," my mother wheezed as we sped toward the nearest Salvation Army store.
"You're not the murdering type," I said dispassionately. Our car splashed through a puddle. "She'll be there," I murmured.

Aunt Sylvia was nestled in crate 6B. We cried. We laughed. This was the first time anyone had ever been overjoyed to see that hellish urn. We lifted it from the mass of discards. It was so flawlessly Sylvia; terrible and wonderful and obscene.

And then I missed her.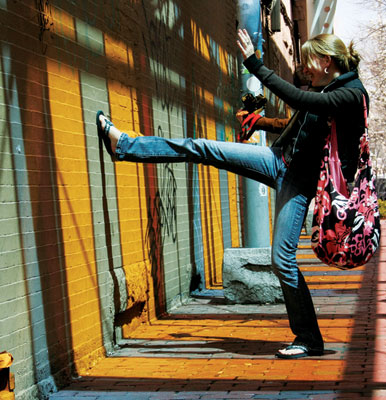 © Marina S., Vineyard Haven, MA