Innominate Beings
September 2, 2013
You can meet so many people just by standing still.

I was waiting for my best friend at our favorite, busy coffee shop. She was perpetually late and I, being unerringly early, was already drinking coffee and leaning against the cool brownstone wall, my thick sweater like a shield against the world. It was Friday morning and our school was empty for a teacher conference day so I was free to watch the busy passersby, caught in the morning rush to work and school.

A guy in an expensive looking coat saw me against the wall of the shop. He checked me out and gave me a generous smile.

"Hey," He nodded, "How are you?"
I had to think about it. "I'm comfortable, you?"

"Cold." He said, laughing a little and blowing into his hands. It was indeed freezing outside; I'd finally had an excuse to wear the scarf I'd bought on sale in the spring, it was as striped and many-colored as Joseph's cloak thousands of years ago.

The man moved up in line and ordered his coffee. You can tell a lot about a person by their coffee, or their non-coffee. This particular man picked his hot cocoa with whipped cream off the bar and came back to my spot on the wall. I tried not to wrinkle my nose at the sweet smell.

"So," He said, meandering back to me, "What's your name? I'm Ryan."

"Autumn." I said, missing the leaves that an early frost had stripped away.

"Maybe I'll see you around Autumn." He said. As soon as he was out on the street he was checking out a girl in a beanie hat. I could only smile.

Someone bumped my hip as they passed.

"Oh sorry hon." She was an older woman with frazzled salt-and-pepper hair that was mostly salt. She pointed to the table I was closest to, "This taken?"

"No, you can have it." I took a sip of my plain back coffee—the starting point of all other coffees. A plain cup is full of possibilities.

"Thank you." The woman said. As she settled down her purse dropped on the floor and I picked it up.

"Oh thank you." She said, really looking at me for the first time. "My granddaughter must be 'bout your age. What did you say your name was, hon?"

"Cecelia." I smiled. "I'm sure if she looks like you then she's lovely." The woman laughed, the lines in her face crinkling pleasantly.

I turned away from the woman and saw, right outside the glass door, a person who I could not fool with fake names and smiles.

Karine had finally arrived, 23 minutes and 38 seconds late.

I'm not sure exactly why Karine and I became friends, but I know why we stayed friends. I had sketched half a dozen portraits of her by that time and I related her with the two moles and one freckle on her cheek, dyed orange hair and a caged-bird look that I was always trying to get on paper. She could have been a fairytale princess or a witch or a fox, if I drew her right. I had been with that fox every day she needed me for two years after her dad left. She had a toothbrush in my mom's bathroom and we had an easy way of breathing and speaking and being silent together, which was why we had stayed best friends.

Above all that, Karine made me be myself. Not because she knew me completely but because the me she knew was a little less a lie than what I showed everyone else.

I opened the door and grinned as she said my real name.

"Erin." She smiled, "Sorry I'm late."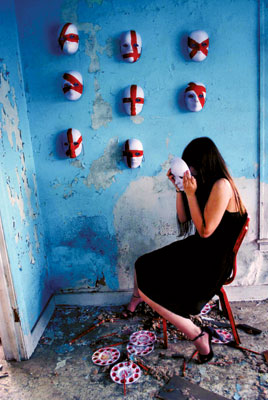 © Narongsukchai T., Sachse, TX