Backtrack
February 3, 2014
"You can check it. Anything. Just don't mess with my account," says the baby-faced, foul-mouthed adult, his salty tears washing a feigned textbook. Backtrack ten years ago in that dirty apartment and half-open door, sneaking eyes and harsh insults. Our world consisted of muddy handball games and follow-the-leader biking trips, coming home to broken CDs splayed on the floor–some semblance of family, I guess.

"It's disgusting. He's disgusting," continues the wrinkled, saddened, maddened, and everything else in between man. Backtrack to when nights are days and days are nights, and pain is a constant friend perched on a hobbled shoulder. Fragmented caresses of to-be love blows through the heavily silent air and leaves the other side of the bed unoccupied.

"What did you just say?" screeches the next one, her eyes of splintered steel and fraying hair. There's nothing but recycled words that go unheard, raw throats and grinding teeth, a skeletal figure with burned-over eyes. Backtrack to the unsatisfied, always unsatisfied. Liquid disappointment is second blood.

And feel that welling hole in your chest, the blackening and withering–a tastefully abstract picture admired by all the others. It's art, they say. It's mine.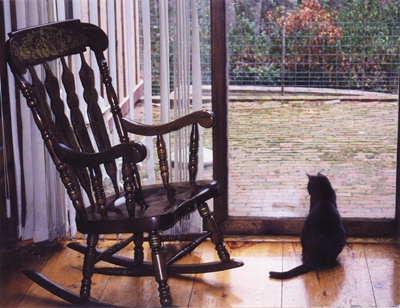 © Elizabeth S., Manomet, MA