There Was a Boy
MAG
March 22, 2014
There was a boy.
A skinny boy with thick-framed glasses
and long hair
that popped off his shoulders when he walked.
He was not that physically attractive.
At least, not as physically attractive as the movies
made out high school boys to be.
Particularly because I was under the impression
that my first day of high school
I would walk through the doors and see the world
in slow motion.
I would nod to my peers because
waving was totally
and utterly geeky.
As I waited to go to my first period class
I would observe all the untouchable
senior boys
who would be gorgeous
blond athletic types
or quiet, dreamy bookworms.
But he was neither.
He was a perfect in between.
Don't get me wrong.
I wasn't looking to be that freshman
who gets taken advantage of by some flirtatious
scooter enthusiast her first week.
In fact, I was not looking for a boy at all.
I'd known I liked girls since the fourth grade.
But there was a boy.
And he was fantastically intriguing.
I'm not sure why I was captivated
by this boy at first.
He was a senior taking first period Economics,
a required course,
in a class that showed a majority of freshmen
and sophomores. He kept to himself,
always scribbling in his notebook
instead of taking notes.
Perhaps it was when we all had to grace the front
of the class with our presence
for the obligatory "about me" presentations.
Perhaps it was in the way he spoke,
like snow.
His voice fell softly into
a hardened chuckle.
And there was an accidental cracking too,
like he was not telling us everything
and felt uncomfortable either way.
Perhaps it was when the bell rang,
and he was pushed by the crowd
rushing through the door.
His checkered notebook fell
onto the floor,
opening to a page with detailed pencil drawings
of rabbits,
and upon trying to pick it up from the floor for him,
we just narrowly avoided
bumping heads.
He managed a crooked smile and
adjusted his glasses
as I closed it, gently handing it to him
as if it were a wounded creature.
The boy regained his composure
and looked at me
with seemingly forced eye contact.
"I always wanted a rabbit,"
he told me
with a deep breath.
"Never got one."
You see,
there was a boy.
And although the universe refused to recognize
his existence as extraordinary,
I saw him as such.
I saw him as extraordinary even when his shoulders
grew tense after he answered a question wrong.
I saw him as extraordinary
because on the very first day,
pushing through the gorgeous blond athletic types
and the quiet, dreamy bookworms,
I saw only him.
In that moment,
I knew that I would see his rhythmic bobble of a walk
again,
and I was okay with that.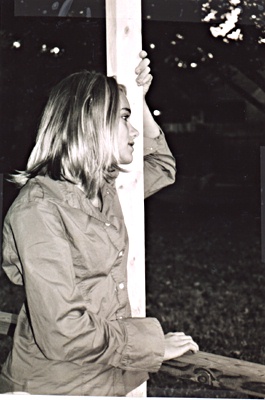 © Tiffany A., Southaven, MS